Las Vegas shooting brings up uncomfortable gun control debate in country music community
"God and guns...that's what this country was founded on," Hank Williams Jr. croons in his aptly named song "God and Guns."
"I'm going to tell you once and listen, son/ As long as I'm alive and breathing, you won't take away my guns," Justin Moore belts out in his ode to the Second Amendment.
Miranda Lambert, who proudly declared in 2012 she packs heat for security reasons, has a tattoo of two crossing guns with wings on her arm and sings of loading her shotgun to show an abusive husband "little girls are made of gunpowder and lead."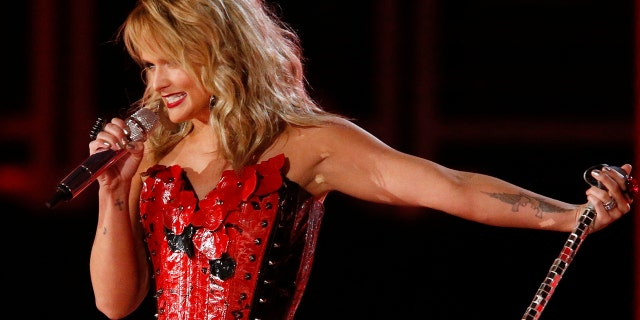 No matter how you cut it, gun control is a big part of the country music community. Many of its biggest stars are loud supporters of the Second Amendment.
Jason Aldean, the singer whose show at the Las Vegas Route 91 Harvest Festival was interrupted by a crazed gunman who killed 58 people and injured more than 480 on Sunday night, is a co-owner in a hunting company called Buck Commander. The other owners include Luke Bryan and the stars of "Duck Dynasty."
In light of the tragic event on Sunday, which claimed the lives of innocent country music fans, some in the Nashville community are calling for country artists to revisit their stance on gun control.
It's time for country music stars to back gun control. Who's concert next?

— Lori 🇵🇷 (@seagal_lori) October 3, 2017
Country stars for gun control may be the change America needs.

— Wayne Newton (@WayneWriteOn) October 2, 2017
Country music stars could make a big difference if they would come out for sensible gun control about now.

— helen (@liberalchik) October 4, 2017
"This event underscores the turbulent times we're living in when senseless killings are taken to such an extreme level," radio music exec Mike McVay told Fox News. "You'd find many in the country music community supportive of the right to bear arms.
"There will be a debate," added McVay, EVP of content and Programming for Cumulus Media and Westwood One. "We'll know more in a couple of weeks how it's going to change."
The debate has already started; Caleb Keefer, the guitarist for the Josh Abbott Band, who performed at the Route 91 Harvest Festival hours before the shooting occurred, spoke out in favor of gun control on Monday.
"I've been a proponent of the 2nd amendment my entire life," Keefer wrote on Twitter. "Until the events of last night. I cannot express how wrong I was...We need gun control RIGHT. NOW."
Echoing Keefer's statements is the daughter of country music legend Johnny Cash, Rosanne Cash, a longtime advocate for gun control, who penned an op-ed urging her fellow musicians to take action.
Cash said the National Rifle Association (NRA) "funds domestic terrorism" and country music artists associated with its group "NRA Country" must speak up against it.
"For the past few decades, the National Rifle Association has increasingly nurtured an alliance with country music artists and their fans. You can see it in 'N.R.A. Country,' which promotes the artists who support the philosophical, and perhaps economic, thrall of the N.R.A., with the pernicious tag line 'Celebrate the Lifestyle,'" Cash wrote in the New York Times.
"That wholesome public relations veneer masks something deeply sinister and profoundly destructive."
A rep for NRA Country did not return Fox News' request for comment.
Country star Luke Bryan seemed to want to keep the focus on the victims. When asked about the tragedy on "Good Morning America" Wednesday alongside his fellow "American Idol" judges, Bryan steered clear of politics.
While "Idol" judge Katy Perry urged people to take action and have a "good, hard look at what our rules and our boundaries are with gun reform," Bryan simply stated, "There's just got to be something we can do."