Lady Gaga sings medley of hit songs at Super Bowl LI, steers clear of politics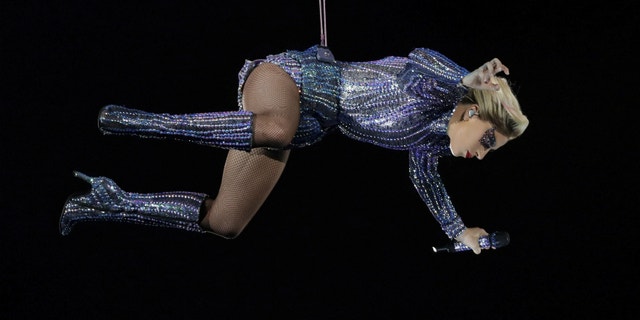 Lady Gaga promised a Super Bowl halftime show infused with the "spirit of equality" and the singer delivered. The pop star's highly-anticipated show began with Lady Gaga on top of NRG Stadium in Houston singing a few lines from "God Bless America" and "This Land is Your Land."
She followed by stating we are "one nation under God, indivisible with liberty and justice for all" before plunging down onto the field Sunday night at Super Bowl LI.
She then performed a medley of her hit songs including "Born This Way," "Poker Face" and "The Edge of Glory" while wearing a silver one-piece with matcing boots.
LUKE BRYAN NAILS NATIONAL ANTHEM AT SUPER BOWL LI
She slowed things down with a passionate performance of her song "Million Reasons" playing the piano.
"America, World how're you doing tonight?" Gaga asked the crowd. "We're here to make you feel good. You want to feel good with us?" She then added, "Hi mom, dad."
Things picked up when Gaga changed into a white futuristic crop top and silver bottoms and sang her final song of the night "Bad Romance" in front of a large group of backup dancers.
The singer was a vocal supporter of Hillary Clinton's during the presidential campaign and after President Donald Trump's victory, she was still fighting -- defiantly standing on a sanitation truck outside Trump Tower in New York City.
NFL DENIES REPORTS THEY TOLD LADY GAGA TO AVOID POLITICS AT THE SUPER BOWL
While Gaga insisted she planned to send a message of unity during her halftime show, many people felt she would bring politics into the mix. Multiple petitions popped up online asking for Gaga to be removed as the halftime entertainer because of her political outspokenness.
In the end, the singer stuck to entertaining her fans with her hit songs and statement-making fashion choices.