Krysten Ritter doesn't consider herself to be a feminist icon despite 'Jessica Jones'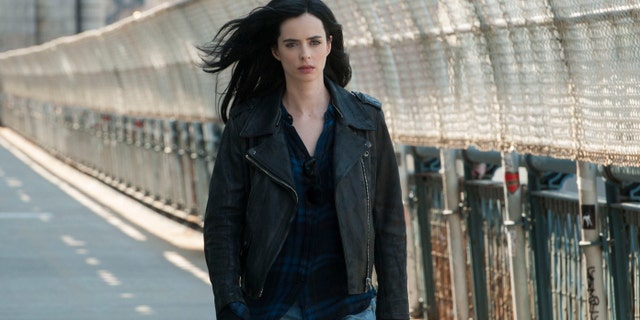 PASADENA, Calif. – Krysten Ritter is a perfect example of be careful what you wish for. Back when she was on the comedy "Don't Trust the B---- in Apartment 23," she dreamed about doing a cool show like "Breaking Bad" or "Dexter," but she knew it was hard to find material like that. Shows like those were always written for men.
And then she read "Marvel's Jessica Jones."
Like a lot of Marvel characters, Jessica Jones is a flawed heroine. She is rebuilding her personal life a year after she escaped the mind-controlling Kilgrave (David Tennant), who used his overwhelming charisma to both mentally and physically abuse Jessica. Now, suffering from posttraumatic stress disorder (PTSD) from their time together, the failed super hero – she has superhuman strength and limited flight – has shut herself off emotionally from others, except for the work she does on behalf of Alias Investigations, her own private detective agency.
"When they locked me in a room at Marvel and I read the first two [scripts] and walked out, [executive producer] Jeph Loeb asked me, 'What do you think?' I said, 'I have to play her. It is a rare piece of material.' I had been acting for over 10 years and I hadn't seen anything like it before," Ritter said at the Television Critics Association press tour.
That could be because Ritter is uncomfortable thinking of herself as a feminist icon, which many consider Jessica to be, although Ritter does consider herself to be a feminist.
"I always knew it was bigger than me just getting a great part," Ritter says of Jessica Jones. "I felt like it was groundbreaking material and a groundbreaking role."
It wasn't that she was unhappy doing "Don't Trust the B." In fact, there is talk about a Christmas reunion show for the comedy, and Ritter says, "James Van Der Beek and I -- all of us -- are really blown away by the appetite for it. We had the best time doing it, so if there's a way to do it, I have the will."
But first she says she is excited to slip back into Jessica's jeans now that the Netflix series got the green light for a second season.
"I think it's exciting to see a woman who is not pining over a guy, who marches to her own drummer, and has her own path," Ritter says. "She's rough around the edges and she has some issues of her own that she needs to deal with, which I think people identify with because we all have issues. She's not perfect. I am excited for young people – boys and girls – to see Jessica Jones. I think she's a badass."
One thing that Ritter is happy about is that despite Jessica's being a superhero -- albeit a failed one – she doesn't have to wear a skirt and a cape like "Supergirl."
"I think Melissa [Benoist] is fabulous and adorable. I am so happy for her to have her own show," says Ritter, who has been known to tune into the CBS series. But when it came time to plan Jessica's wardrobe, Ritter definitely had her own ideas about what she should wear.
"It was important for me to have something practical that I could sit on the ground in Indian-style, but also let me kick ass," she says. "Jessica Jones doesn't think much about what she is going to wear, so I felt like it needed to be comfortable, practical, a uniform, and clothes that live on the floor literally."
Season 1 of "Marvel's Jessica Jones" is available now on Netflix.
Four4Four: 'Weiner' documentary bad news for Hillary Clinton?