Kit Harington dishes on his unique ancestry, losing his virginity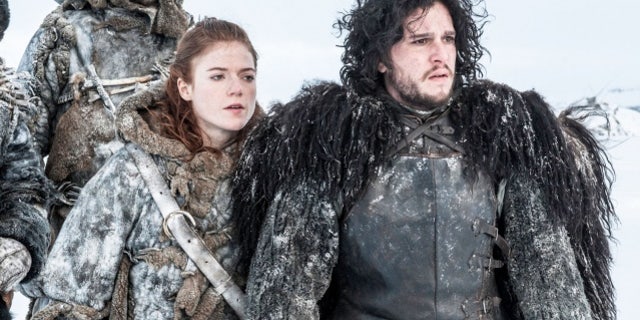 NEWYou can now listen to Fox News articles!
You might want to thank Kit Harington's ancient ancestor for that porcelain throne in your home.
The 30-year-old English actor who plays Jon Snow in the hit HBO fantasy drama "Game of Thrones" confirmed to Elle Magazine in an interview published on Monday that he has a real-life connection to a John. Specifically, a distant relative of Harington's invented the flushing toilet in 1596 for Queen Elizabeth I.
"That's 100 percent true," said Harington. "It's called 'The John Harington.'"
Harington also revealed that it's the reason why the loo is also nicknamed "the john."
"I'm glad it's not called 'the Harington,'" he said. "[My family] also wrote the queen a lot of bad poetry. I've inherited the bad poetry genes, but not the inventor genes."
Harington also dished to Elle about some more personal details of his past. The star said unlike his character, Jon Snow, he didn't lose his virginity in an unexpected place.
"Mine was a little less left-field than in a cave. It was a typical sort of teenage thing, at a party. I was probably too young," he said. The star wouldn't say how young exactly but he added, "I think the girl and I just kind of wanted to. You either hold on and do it right, or you're young and decide to get the monkey off your back."
As for the show's brooding star, you can catch him in season 7, which is scheduled to return sometime this year. In the meantime, Harington isn't interested in sitting pretty.
"Like every actor, you get notorious for maybe one role and then get offered a lot of similar roles," he added. "Jon is a hero; he's a good person, he's a moral person — a somewhat solemn person — so I get a lot of those surly heroic roles. I've learned to try to avoid those now. Otherwise I'm just going to go insane. I'd like to do comedy, but I don't want to do romantic comedy. I'm not a romantic comedy guy. But I'd like to play someone really f--ked up. People who are right on the edge."
What does Harington have in mind? "A drug addict on 'Sesame Street,' he jokingly said. "Let's hope 'Sesame Street' doesn't want to go there."