'Killing Kennedy': Co-star Ginnifer Goodwin says Rob Lowe was channeling JFK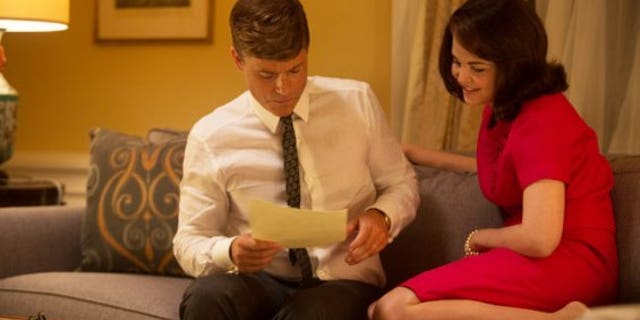 On his first day on the set of "Killing Kennedy," Rob Lowe saw Ginnifer Goodwin donning a replica of the pink suit worn by first lady Jacqueline Kennedy when President John F. Kennedy was assassinated.
Immediately, the intensity and the reality of what they were about to depict in the film hit home.
"Seeing her in that beautiful pink Chanel with bloodstains on it was unbelievably emotional," Lowe said in an interview with The Associated Press on the set, briefly suppressing the accent he groomed to emulate JFK.
"It made it real," he added. "If I were under any illusions about what we were doing, seeing her in that iconic moment was, I would say, sobering."
It also set the tone for filming of the movie, which profiles the Kennedy family and gunman Lee Harvey Oswald. Filmed in Richmond, it premieres Sunday on the National Geographic Channel, several days before the 50th anniversary of JFK's death in Dallas.
In one scene, Lowe and Goodwin paint a portrait of the last private moments of the first couple in a Texas hotel suite before the parade. As Jackie lays out the now infamous pink Chanel suit, the two share loving banter.
"I'm so glad that you're here, it's so much better when you're here," Kennedy says. "Because the one thing I could never bear would be to lose you."
The film, based on Fox News host Bill O'Reilly and Martin Dugard's book by the same name, chronicles the events that culminated with the assassination of the nation's 35th president on Nov. 22, 1963. It carefully interlaces old film reels and TV broadcasts and delves beyond the details of that fateful day and the aftermath, showing viewers the intimate moments behind JFK's presidency as well as the tale behind Oswald.
Will Rothhaar, who took on a challenge portraying one of the most notorious killers in American history, said he attempted to convey Oswald's strife and frustration just to be noticed, heard or respected.
"Everyone thinks of him as this two-dimensional villain," Rothhaar said, adding that while viewers may not feel compassion for him, Oswald is certainly relatable.
Rothhaar stars opposite Michelle Trachtenberg, who plays Oswald's wife, Marina. Trachtenberg speaks mainly in Russian throughout the film, a language she learned from her mother while growing up.
The cast also includes Jack Noseworthy as Robert F. Kennedy, Casey Siemaszko as Jack Ruby, Francis Guinan as Lyndon B. Johnson and Richard Flood as Kennedy aide Kenneth O'Donnell.
Lowe said the opportunity to play JFK came with some responsibility to pay tribute to an historic figure whose legacy "belongs to all of us."
"There's a connection playing him that is certainly deeper than playing other roles," Lowe said. "My interest was in who he was as a man, as a father, as a husband, as a human being, and to try to inhabit that."
And in the eyes Lowe's co-star, he did.
"There were times when I felt like I was with the ghost of Jack," Goodwin said. "I can't say that I have ever had that experience of feeling like maybe my scene partner was channeling something from a higher source."