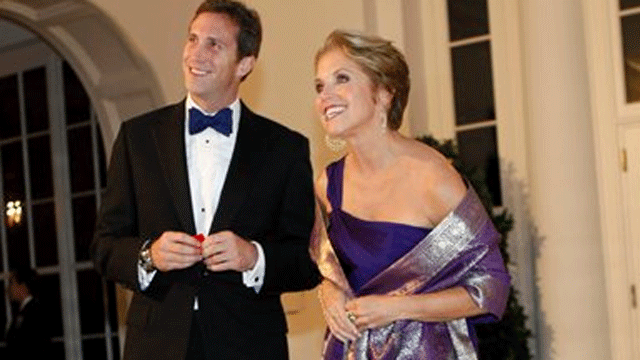 NEW YORK – Katie Couric has split with her boy-toy boyfriend Brooks Perlin after five years.
Sources told the New York Post that things were rocky between the couple for months, and handsome Brooks, 17 years Katie's junior, is moving out of her home in New York's Upper East Side.
A friend said, "They have decided to move on. Brooks is a great person and a real gentleman; he and Katie enjoyed their time together. But after five years, they have decided it was time to go their separate ways. Brooks is in the process of moving out of her home."
Another source told us, "Three months ago, Brooks was looking for a broker to find a new place to live. He stopped looking because they decided they were going to try to make things work."
In May, Couric hinted the future was cloudy for her and Perlin, CFO at Eco Supply Center, a green building-materials distributor. She told People, "I am in the process of figuring out the future, and so is he. I am really happy in my personal life ... but it is complicated."
Mother-of-two Couric, 54, who lost her husband, Jay Monahan, to colon cancer in 1998, met Perlin in 2006 at an event to raise money for cancer research at the Louis Licari Hair Salon.
Speaking of their meeting, she said, "I thought he was really cute. He asked me if I wanted to have dinner sometime, and I liked that it was so direct and natural."
Of the age difference, she told People, "I've been called all kinds of things. I've been 'cougared,' which was just obnoxious. But it's good enough for Demi, right?"
Of Perlin she added at the time, "He's incredibly kind, caring and sensitive ... Even if we are not on the same page all the time, I like being in his space."
But Couric is not sitting around nursing a broken heart, her friend added. She is channeling her energy into her syndicated daytime talk show with ABC, which starts in September.