Katharine McPhee reveals her father died just weeks after her engagement to David Foster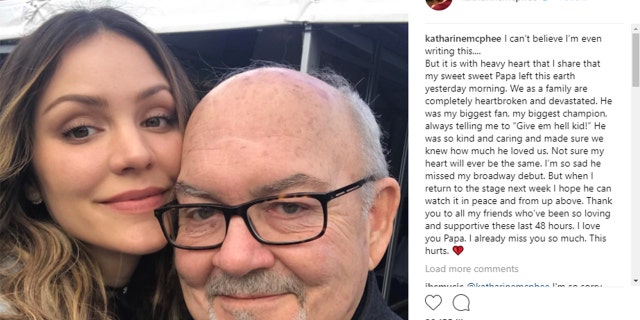 Katharine McPhee has revealed that her father died just weeks after she announced that she's engaged to David Foster.
Daniel McPhee died over the weekend after the star, who is currently starring on Broadway's "Waitress," announced she would miss a few shows to attend to a family emergency.
"I can't believe I'm even writing this," McPhee wrote in an Instagram post of her and her dad. "But it is with heavy heart that I share that my sweet sweet Papa left this earth yesterday morning. We as a family are completely heartbroken and devastated."
McPhee continued: "He was my biggest fan, my biggest champion, always telling me to 'Give em hell kid!' He was so kind and caring and made sure we knew how much he loved us. Not sure my heart will ever be the same. I'm so sad he missed my broadway debut. But when I return to the stage next week I hope he can watch it in peace and from up above. Thank you to all my friends who've been so loving and supportive these last 48 hours. I love you Papa. I already miss you so much. This hurts."
Days before sharing the news, she let her followers in on the family issues, noting that she'd miss a weekend of shows in New York City while she flew back to L.A.
"Hey Waitress fans… I'm so so sorry to inform you I will be out this weekend from the shows. I'm having to fly back to LA right now for a family emergency," she tweeted. "It breaks my heart to disappoint anyone. Sending all my love."
The news comes just weeks after McPhee, 34, announced that she and Foster, 68, are engaged. The couple first sparked dating rumors in May of 2017, but wouldn't confirm their relationship until later that year. The relationship and subsequent engagement drew raised eyebrows from fans who questioned their age difference. McPhee, however, was undeterred by the comments and clapped back on Twitter.
"Y'all should be worrying more about registering to vote and midterm elections than who's marrying me," she wrote.