Joan Rivers Blasts Conan O'Brien, Says 'He Would Have Been Fired'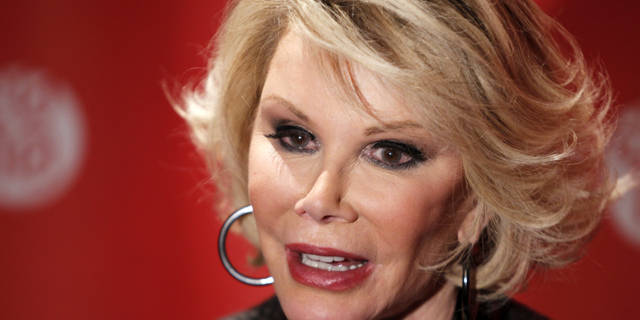 NEWYou can now listen to Fox News articles!
Forget hitting the ski slopes, grabbing bags of swag, or long, luxurious nights by the fire. Joan Rivers is working the Sundance Film Festival.
"It is so frustrating to be at Sundance because you can't see anything but your own movie," said Rivers, who attended the festival in support of the documentary "Joan Rivers: A Piece of Work," directed by Ricki Stern and Anne Sundberg. The film premiered Monday night.
"Everybody's saying, `Did you see this? Did you see this?"' the 76-year-old comedian said. "You go, `No! No! No!"'
The film offers both a seriously funny and just-plain-serious look at Rivers.
Rivers joked about promoting the documentary.
"I really hate it," she said. "I can't get to the gifting booths. We barely made our way into one of them. And there was nothing left but extra-larges. So, I'm very bitter about Sundance, if you want the truth."
But, she added: "Of course, it's a great honor."
Rivers said she had no influence on the content of the documentary. "Once they said, `Let's do it,' it was their's to do," she said. However, she did grant the filmmakers access to her life.
"You're going to do a documentary, you've got to have access," she said. "Otherwise, it would become stupid."
"A Piece of Work" opens with a close-up shot of Rivers without makeup and works hard to stay nitty-gritty to the closing credits.
Rivers, who directed the 1978 Billy Crystal comedy "Rabbit Test," had a lot to say about "Precious: Based on the Novel `Push' by Sapphire," which is expected to score an Oscar best-picture nomination.
"Brilliant. Mo'Nique? Brilliant. Not as good as the one who played Precious, who was Meryl Streep," Rivers joked. "I didn't know it was her until I read the credits. And she's brilliant. But Mo'Nique certainly held her own." (Gabourey Sidibe portrays Precious in the film.)
Rivers blazed the trail for Mo'Nique, who won a Golden Globe Award for her role in the movie.
"All standup comics are fabulous actors," Rivers said. "Don Rickles is an amazing actor. Lucille Ball was a standup; she was a wonderful, wonderful comedic actress. Comedy is much harder than straight drama."
Rivers was the substitute host for Johnny Carson's "The Tonight Show" on NBC for three years. She then hosted a talk show that competed with Carson. She says of NBC's buyout of Conan O'Brien: "Luckiest thing to happen to Conan -- ever.
"He was going down. He would have been fired eventually. And now America feels sorry for him. He's going to have another show. And he's got $40 million. Where do you sign? For someone that's not that funny."
As for Jay Leno's return to prime time, Rivers says: "Wonderful, because America was falling asleep at the wheel. 'Cause he puts everybody to sleep. There's a sign that says after his show, `Do not watch and then drive or use heavy machinery.' And so I'm very glad that he's back to where he is because mom and pop can stay up a little later."
The 2010 Sundance Film Festival continues through Sunday.