Jimmy Fallon picks up strangers' $1,000 restaurant tab, explains why he decided to foot the bill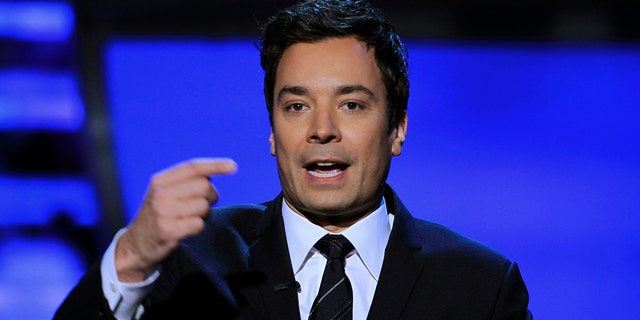 Diners at a Hamptons restaurant were shocked when Jimmy Fallon and his wife, Nancy Juvonen, were seated next to their table on Monday. But the group played it cool and didn't approach the "Tonight Show" host — a decision Fallon was grateful for.
After the two couples finished their meal at Il Mulino in Wainscott, New York, Fallon walked over to thank them.
"He went up to them said, 'I appreciate you guys not wanting to disturb us. I knew you wanted to say 'hello.' So he picked up the tab. With tip it was $1,136," Enzo Lentini, general manager of the Italian restaurant, told Newsday.
Lentini commended the pair of couples on their restraint, despite the fact they "wanted to jump out of their skin."
STEPHEN COLBERT 'APOLOGIZES' TO TRUMP, CALLS OUT CNN FOR 'LIES'
Fallon's spokeswoman, Claire Mercuri, confirmed the encounter to Newsday on Wednesday. Lentini told the New York newspaper Fallon frequently visits the restaurant, typically on weekends, so he wasn't surprised to see the late night host. The staff has gotten to know him.
"I walked him downstairs, through the kitchen and into the dining room. He's like, 'Enzo, where you taking me!' The kitchen [staff] got a big kick out if it, too — they were all clapping when he came through," Lentini said, explaining that he wanted to avoid a scene.
JIMMY FALLON GIVES SURPRISE SPEECH AT STONEMAN DOUGLAS GRADUATION
This isn't the first time Fallon has been praised for an act of kindness on Long Island. In October 2017, the "Tonight Show" host offered to drive a woman home after spotting her walking along a roadway in pouring rain in Sagaponack.
"This truck pulls up and the window rolls down. I'm thinking, as a woman, 'I'm not getting in the car with you.' And then I was like, 'Oh it's Jimmy Fallon,'" Dawn Elyse Warden, of Philadelphia, told Newsday at the time.
"It was a big deal to me that he would stop the car for a stranger with his child in the car. I thought that was kind of amazing," she added.