'Jersey Shore' star Pauly D addresses ex Aubrey O'Day's alleged affair with Donald Trump Jr.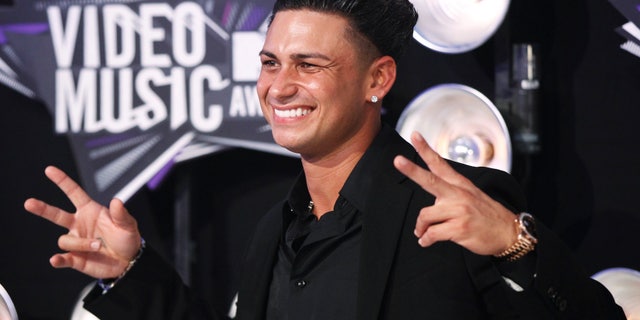 LOS ANGELES – Paul DelVecchio, also known by his stage name "DJ Pauly D" says he had no idea of his ex-girlfriend Aubrey O'Day's alleged affair with Donald Trump Jr.
The "Jersey Shore" mainstay spoke to reporters Tuesday at the premiere of "Marriage Boot Camp: Reality Stars" in Los Angeles and dished on his failed relationship with the former "Celebrity Apprentice" star and Danity Kane songstress.
DelVecchio said that he and O'Day's relationship issues had nothing to do with her alleged affair with Donald Trump Jr., and even claimed to Us Weekly that he had no idea the president's son and O'Day were even involved.
"We didn't address that at all. Yeah, I didn't know anything about that," he told the outlet Tuesday. "I guess [the news broke] after or something like that."
The 38-year-old father added that he is certain no one would have been made aware of the alleged affair if O'Day, 34, hadn't been a celebrity at all.
"I mean that's what it's like being a celebrity and going through stuff like that. Like, that's something that she was going through – but now everybody is the audience," he told reporters.
"If she wasn't famous, nobody would know – but because she's famous, everybody knows."
DelVeccio noted that his decision to appear on "Marriage Boot Camp: Reality Stars" centers on his desire to document his life and and added that viewers will likely see him in an unfamiliar manner than what is normally shown on "Jersey Shore."
"You guys get to see a different side of me because I'm always single, "Jersey Shore" and now you can see me on this show in a relationship – one that just so happened didn't work out."
"Being in the public eye makes it that much harder to be in a relationship too, because people in relationships have problems. Now take that and put into the people's eyes and it's even worse," he added.
"So, you get to share that with me on the show and you get to see exactly the problems that we had because of that. And, some people are just not right for each other and we learned that on the show as well."
A now famously-single DelVecchio didn't pass up the opportunity to prospect his next catch as he explained what he looks for in an ideal partner.
"Loyalty. I like family values and a sense of humor. [She] also has to get my lifestyle because I'm a touring DJ – I'm constantly touring. And that's a lot for somebody to handle. It's probably why I'm single," he joked.