Jennifer Lopez, Casper Smart get cozy at Billboard awards, but no word on if it's 'for real'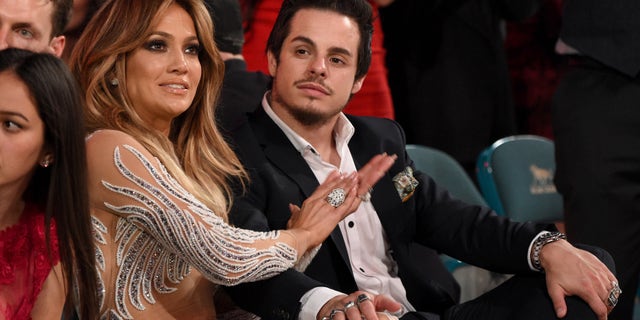 Jennifer Lopez might have remained tight-lipped about whether she has rekindled her relationship with Casper Smart, but the two looked pretty cozy at the Billboard Music Awards on Sunday.
The possibly former couple did not walk the red carpet together, but they were spotted sitting together in the audience during Fall Out Boy's performance.
Ahead of the show, Lopez dodged questions about their rumored re-play, telling talk show host Ellen DeGeneres that she was "kind of not but I kind of am" single.
"Have you even been at a point in your life where you don't know? Like you're not sure about things? Well, that's all. I am not sure about anything," Lopez, 45, told DeGeneres on Friday, before promising she would make an official announcement when the time comes. "I'll say it. I'll say, 'You know what, this is going down.' But right now I just feel like … I am me."
Jenny from the Block, who recently announced a Las Vegas residency in 2016, stuck to her undecided guns on the Billboard red carpet.
Asked about the rumors that she's back together with Smart, 27, JLo told Entertainment Tonight, "I don't feel like I need to talk about it … I don't know. I don't know."
Last week, Lopez dubbed Casper her "Man Crush Monday," when she shared a photo of him on Instagram.
Smart, who separately spoke with Entertainment Tonight on the red carpet, did not clarify much.
"There's all kinds of rumors. We got married, we had babies, we got divorced, we got all kinds of things," he said. "It's the media, it's rumors, it's tabloids and when something happens for real, it happens for real."
Like us on Facebook
Follow us on Twitter & Instagram