Jennie Garth opens up about split from Peter Facinelli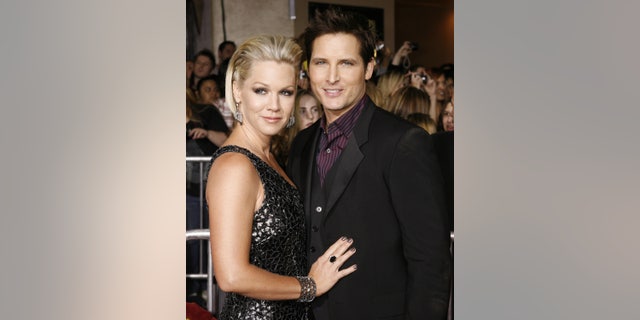 In "Deep Thoughts From a Hollywood Blonde," Jennie Garth opens up about the painful dissolution of her marriage to "Nurse Jackie" actor Peter Facinelli with whom she has three daughters. The 41-year-old actress spoke to FOX411 about her days as Kelly Taylor in "Beverly Hills, 90210" and how she navigated her way through Hollywood.
FOX411: You were only 18 when you were cast on "90210" and we never saw you partying.
Jennie Garth: I attribute that to my family upbringing. I don't know how I got so lucky but I didn't come undone. I did a small bit of partying but I never got publicly drunk. I never did anything too crazy, and it was a much different time back then with the press than it is now. We were all very lucky.
FOX411: You write that once you and Shannen Doherty had to be physically pulled apart.
Garth: Yeah we had our moments of not loving each other back then and then loving each other deeply. We were hot and cold. We were essentially in high school. We were growing up.
FOX411: Yeah but she's had issues with other co-stars.
Garth: She's a very strong independent woman. She's also an Aries and people lock horns with her. She is not afraid to stand up for what she believes in and what she wants. People have a problem with that sometimes.
FOX411: You're very honest about how your marriage broke down.
Garth: I wanted to really be honest and not point the finger at him. I wanted to own my part in it as much as I could and still be somewhat private about a lot of it. I knew that people knew a lot about it already. I didn't want anybody to think it was one person's fault. It still saddens me today that it happened. Unless it's something you wanted, divorce is not something you ever get over.
FOX411: You say the first time you're girls left for their dad's you cleaned the floor with a toothbrush.
Garth: Having them leave the first time to go spend the week at dad's house, I still every time... I call it "transition day." Every time I have to have a transition day it takes me a day to figure it out. I know now what's wrong. I'm always sad for the whole day, just blue and glum because my girls are gone. A chunk of me is taken away when they leave. I really have to recompose myself.
FOX411: You write a lot about self-love.
Garth: I was the first person to roll my eyes at that stuff and now I realize it's important, and I try to teach other people to love themselves and take care of themselves. That is the one good thing about divorce: I have time to actually be with myself, take better care of myself when my girls are with their dad. That has actually been somewhat beneficial to me when I can get past missing them. I say, "What can I do in these days that can benefit me and subsequently benefit them?"
FOX411: You put on a lot of weight after it happened.
Garth: Yeah I was super depressed. I had to lose the weight when I was even considering coming back to Hollywood and needing to make a living-- knowing what I do is based on how I look, seeing pictures and going, "Whoa, nobody is going to hire that to be on TV."
FOX411: "What I Like About You" also starred Amanda Bynes. That must have been hard to watch her breakdown.
Garth: It was hard to watch because I knew her to be such a great person and so talented. I definitely tried to reach out to her and was never able to reach her or her family. I'm so happy to see that she's back with her family now. It seems that things are a little bit better now. That's what the really dark side of the industry can do to you, creates a strong imbalance.
FOX411: And you have a pilot with Tori Spelling. How is she doing?
Garth: She's definitely going through some difficult personal issues right now, but she's a very strong woman. I'm really proud of her. We're like sisters so naturally we are very there for each other. I'm loving working with her. We're both really excited about our new show together.
FOX411: Are you dating anyone?
Garth: No!
FOX411: Would you ever have more kids?
Garth: If the right situation arose yeah, sure. I love children. My girls are very close. They fight constantly. They kill each other every day but they love each other.
FOX411: You also have a show on HGTV.
Garth: I'm designing my home in LA. HGTV is filming it. I'm shooting every day. I go there and try to pretend like I know what I'm doing. Sometimes I know what I'm doing.