Jean-Claude Van Damme Reveals Surprising New Project, Shares Funniest Encounter With a Die-Hard Fan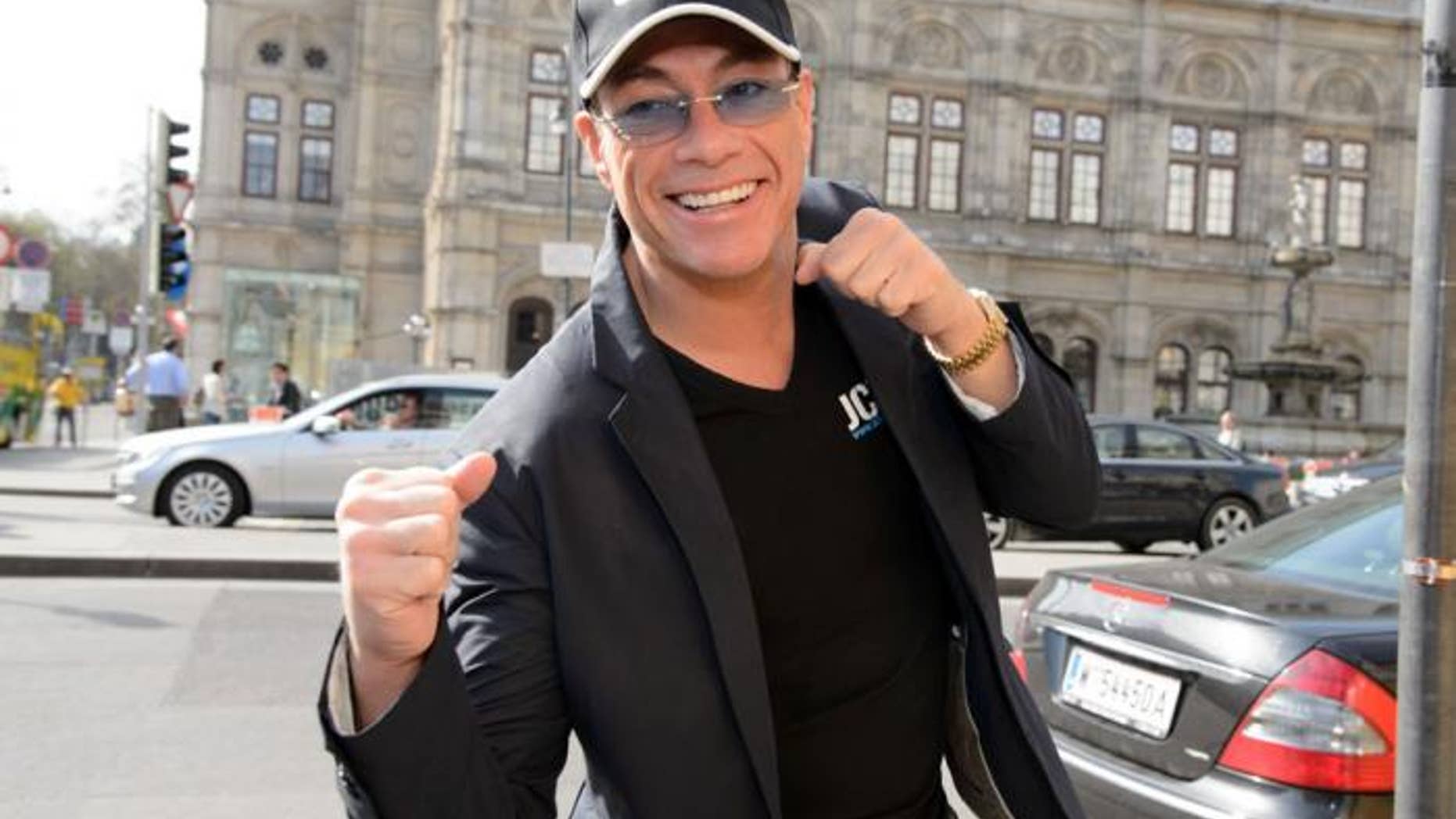 If you haven't joined the emoji bandwagon quite yet, allow "the Muscles from Brussels" to try to change your mind.
Action film star Jean-Claude Van Damme is entering the digital world with a new, surprising project that might shock fans more than a sudden leg-strike to the noggin. The 56-year-old actor and martial arts expert collaborated with Los Angeles-based production company Automatik to create his new VanDammemoji, a set of over 160 funny emojis modeled after Van Damme's passion for physical fitness, his iconic facial expressions, and his beloved screen performances.
"I have been a fan of Jean-Claude Van Damme since childhood, so this collaboration is an honor," said Brian Kavanaugh-Jones, a partner at Automatik, in an official release. "Our No. 1 goal was to ensure that the detail of every emoji, particularly his facial and body resemblance, as well as the reconstruction of his moves, was flawless."
From his renowned roundhouse kick to the stomach-churching scene in "Hard Target" where he bites off a rattlesnake's tail (below), Van Damme's fans will find a cartoon to match their every mood, and to help express themselves in texts and tweets.
But what does the Van Damme have to say about his latest project? Fox News Magazine scored the details from Van Damme himself, along with the one cheat meal he can never resist and his funniest encounter with a fan:
FNM: What prompted you to launch your own emojis?
JCVD: I thought it was a great idea to give people the opportunity to "Van Damme" their messages. Not only are they fun, but they're also a cool way to motivate and challenge your friends.
FNM: What was it like developing emojis that specifically matched your famous moves and facial expressions?
JCVD: By being an integral part of the creative process alongside the development team, it was great to collaborate and witness the evolution of the VanDammemojis as they came to life. It was also really fun to think up different real-life expressions and poses that represented me while turning them into an emoji format.
FNM: I know it may be tough to pick just one, but which is your favorite emoji from the collection?
JCVD: I actually have two favorites; the roundhouse kick, for obvious reasons, and the emoji of me doing a split on two tigers because I have such a passion and affinity for animals.
FNM: What advice can you give to us on how we can get "Van Damme" fit for 2017?
JCVD: Since every individual deserves fitness advice personalized to their unique weight scenario and metabolic needs, I'd like everyone to be on the lookout for my new set of training videos that will target a wide variety of body types and needs, soon to be published on my website. By following the videos, these will certainly get anyone "Van Damme" fit in 2017.
FNM: The VanDammemoji even contain a few food emojis. What's the one food the "Muscles from Brussels" can never resist?
JCVD: Believe it or not, cherry pie … hold the cream. Just the crust and cherries!
FNM: I'm sure you've had many, but which has been your funniest encounter with a fan?
JCVD: While travelling for work, an immigration officer at the airport recognized me. He came out of the booth and did a split right in front of me. After that, he walked back into his booth, checked and stamped my passport. That was really funny.
FNM: Who are the actors that inspire you?
JCVD: A lot of people have inspired me throughout my life. Bruce Lee, Al Pacino, and Leonardo DiCaprio, just to name a few. All of them had or have something special to offer!
FNM: What would you say is your favorite film of all time?
JCVD: The movie "Lawrence of Arabia" with Peter O'Toole had a big influence on me when I was a child. It was beautifully made and the story really touched me.
FNM: Now that your emojis are out, what can fans expect from you in 2017?
JCVD: To kick-off the New Year, I'll initially be focused on making a movie with a submarine involved, and then I'll be switching gears to concentrate on the filming of episodes for my Amazon series "Jean-Claude Van Johnson." After that … maybe another movie.