Jay-Z on relationship with Beyonce: It 'wasn't totally built on the 100% truth'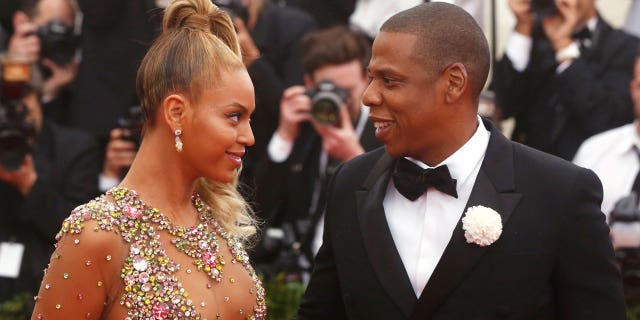 Jay-Z is finally divulging more about his relationship with Beyonce and the long-time infidelity rumors that have plagued the power couple.
The rapper released a mini-documentary titled "Footnotes for '4:44,'" part of his new album released exclusively on Tidal. In the 11-minute video, Jay-Z confessed his relationship with his singer wife wasn't completely built on truth.
"This is my real life. I just ran into this place and we built this big, beautiful mansion of a relationship that wasn't totally built on the 100 percent truth and it starts cracking," Jay-Z said about his high-profile marriage. "Things start happening that the public can see."
"Then we had to get to a point of, 'Okay, tear this down and let's start from the beginning'…It's the hardest thing I've ever done," he added.
BEYONCÉ AND JAY Z REPORTEDLY WELCOME TWINS
The video continued with a montage of celebrities including Will Smith, Chris Rock, Kendrick Lamar, Aziz Ansari and Mahershala Ali talking about their relationship experiences.
Jay-Z also recalled the fight to keep relationship alive, thinking back to a time on a boat when he was "crushed" hearing Beyonce had to leave and even begging her to stay.
"What is happening to my body right now? Did I just say … 'Don't leave'? All this is new for me," he said.
The rapper said he played "4:44" for Beyonce and admitted it was "uncomfortable," but that it had to be done in order to keep everything transparent.
"We just got to a place where, in order for this to work, this can't be fake. Not one ounce. I'm not saying it wasn't uncomfortable because obviously it was," he told his celebrity friends in the room.
"But because we have been doing it for so long it was less uncomfortable," he added.
Infidelity rumors came into the spotlight after Beyonce released her album "Lemonade" last year, alleging that Jay-Z had fooled around with a woman who was coined "Becky with the good hair." The rapper released his album on June 30, around the same time news broke that the couple's twins were born.
"4:44" addressed the Beyonce's allegations of betrayal head on, from the infamous elevator dispute with Solange, to the birth of their three children and the "Becky."