Jay Leno Spokesman: 'Tonight Show' Host to be Released From Hospital Today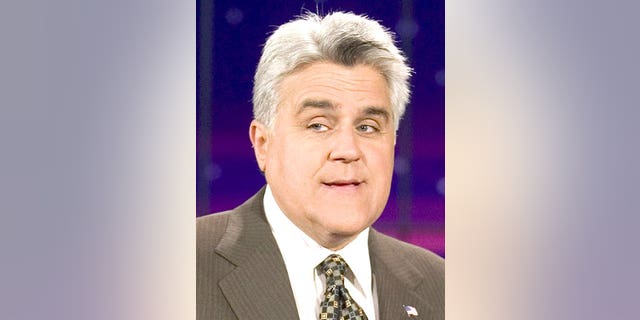 A spokesman for Jay Leno says the "Tonight" host is doing well after an overnight hospital stay and is expected to be released today.
His publicist, Dick Guttman, said doctors found that Leno's illness wasn't "symptomatic of anything serious." On Friday, Guttman said he couldn't provide details of what ailed Leno when he checked into the hospital Thursday.
The 58-year-old comedian was hospitalized overnight for observation, Guttman said. Leno was expected to be back at work at the Burbank studios on Monday.
Jay Leno checked into a hospital with an undisclosed illness Thursday and canceled the taping of the "Tonight" show.
Leno left his office at NBC's studios about midday and checked himself into a hospital for observation, said his publicist, Dick Guttman. He would not identify what ailed Leno or where he went, but characterized his illness as "mild" and said the comedian continued working throughout the day, making phone calls and writing jokes.
"Jay Leno is doing just fine," read a statement from NBC spokeswoman Tracy St. Pierre. "He was kidding around with the hospital staff and running his monologue jokes by the doctors and the nurses. He's expected back to work on Monday."
A woman who answered the media line at Providence Saint Joseph Medical Center, which is near the Burbank studio where Leno tapes "Tonight," said they had no patient by that name, and referred inquiries to NBC.
The network planned to air a rerun, the first time it had to cover for a sick Leno since he took over "Tonight" in 1992, St. Pierre said. Guests scheduled for Thursday included "X-Men Origins: Wolverine" actor Ryan Reynolds, celebrity animal trainer Jules Sylvester and Big Bad Voodoo Daddy.
"We wish Jay the speediest of recoveries and hope that our soundcheck this morning didn't have anything to do with his illness or the cancellation of the show," joked Chad Jensen, manager for Big Bad Voodoo Daddy. He said most of the guys in the swing band instead were "in the ocean surfing this afternoon."
It was an unusual lapse for the famously intrepid performer, who routinely fills off-days from his TV show with live appearances on the comedy circuit.
Leno, who turns 59 on Tuesday, will leave the "Tonight" show May 29 after 17 years. But he will continue on NBC, with a Monday-through-Friday program at 10 p.m., starting in the fall.
The top-rated late-night host's move to prime time created a stir in the industry, taking the time slot usually reserved by broadcast networks for dramas such as "ER." And Leno has continued to make news, scoring a coup by booking President Barack Obama as a guest and performing free comedy concerts in the recession-wracked Detroit area.