Jane Fonda receives top AFI award; Vietnam vets speak out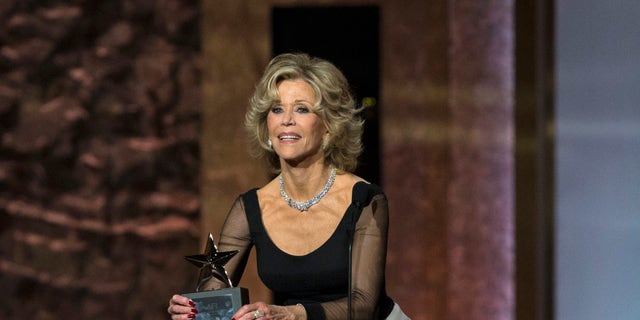 NEWYou can now listen to Fox News articles!
LOS ANGELES – Last Thursday Jane Fonda accepted the 42nd American Film Institute (AFI) Lifetime Achievement Award, following the footsteps of her famous father, Henry Fonda, who received the honors in 1978. The decision to reward the two-time Oscar winner has outraged some who served, or had family members serve, in the Vietnam War.
Back in 1972, Fonda went to Vietnam and was photographed seated on a North Vietnamese anti-aircraft battery and called Americans "war criminals."
"[It makes] no difference what type of life you have lived, once you have betrayed your country and the people in uniform, that hatred and disgust is forever. She should not be given any other award, other than a jail cell," Peter Forbes, National Commander for the Veterans of the Vietnam War, Inc. & The Veterans Coalition, told FOX411. "If anyone wants to follow in the footsteps of Hanoi Jane they are fools."
But at the AFI Awards, her Hollywood counterparts offered nothing but praise.
Lily Tomlin described Fonda as "a role model for the American modern woman." Wanda Sykes called the screen star "(her) hero." Sandra Bullock told the award recipient that she lives "the life so many of us dream of." Cameron Diaz noted that she "trying like crazy" to follow Fonda's trajectory. And Meryl Streep cited her as the "big sister" who walked her into moviemaking.
The celebrities' praise of Fonda didn't sit well with some whose family members had served.
"My stepfather served several tours in Vietnam, I know the horrors he went through during that time. He despises Fonda for what she did. It is every American's Constitutional right to protest and object to any war, but she visited the enemy and they used it as a propaganda tool," said SSG of the U.S. Army, Anthony Anderson. "As for Diaz and Bullock, I actually liked them before all of this. I can assure you no more of my money will be spent on anything they are part of."
The subject of Fonda's political past wasn't ignored at the AFI Awards.
"In film, in fitness, in politics, Mom, you have succeeded… But if my mother thinks it was difficult being the daughter of Henry Fonda, you should try being the son of Hanoi Jane," her son with activist Tom Hayden, Troy Garrity, told the amused A-list audience. "That was a lot of fun. My first 13 birthday parties were fundraisers. My mother never hired a nanny to watch out for me. That was what the FBI was doing."
The room also erupted into laughter and applause after AFI Board of Trustees Chairman Howard Stringer said: "What a lot of people don't know is that Jane Fonda attended the very first tribute in 1973 to director John Ford. She didn't actually make it into the ballroom that night because she was there to protest the appearance of one of that night's presenters, Richard Nixon. Jane, what are we going to do with you?"
Others have also taken to the Internet to express their dismay at Fonda's prestigious honor, which has previously been won by the likes of Orson Welles, Bette Davis and Clint Eastwood.
"A superficial woman [and traitor] being lauded by a group of superficial people," wrote one, another noted "[I have now] lost all respect for Sandra Bullock," as another quipped that Fonda will "go to the grave" with her traitor title.
Fonda, 76, expressed her regret over the Vietnam photograph in her 2005 autobiography, but some argue that there is nothing Fonda can say or do at this point to make her critics feel better about the 1972 scandal.
"She has let too much time elapse and too many servicemen that she negatively impacted are gone. She will stand beside a false façade that the AFI and other ass-kissers will continue to hold up for her," observed Dr. Dale Comstock, a Special Forces veteran whose father served in Vietnam. "The AFI's support for her [is] akin to aiding and abetting any criminal or malfeasant."
However, there are some fans that have defended AFI's choice of honoree.
"Very proud of you and your receiving the AFI lifetime award," one tweeted to Fonda. "Cannot wait to see some of it on TV. So deserving
Reps for AFI and Fonda did not respond to a request for comment. The private ceremony is slated to air as a special on TNT on June 14.
Follow @holliesmckay on Twitter.