Jacob and Stefano Rock, Naima and Haley in Danger on 'Idol'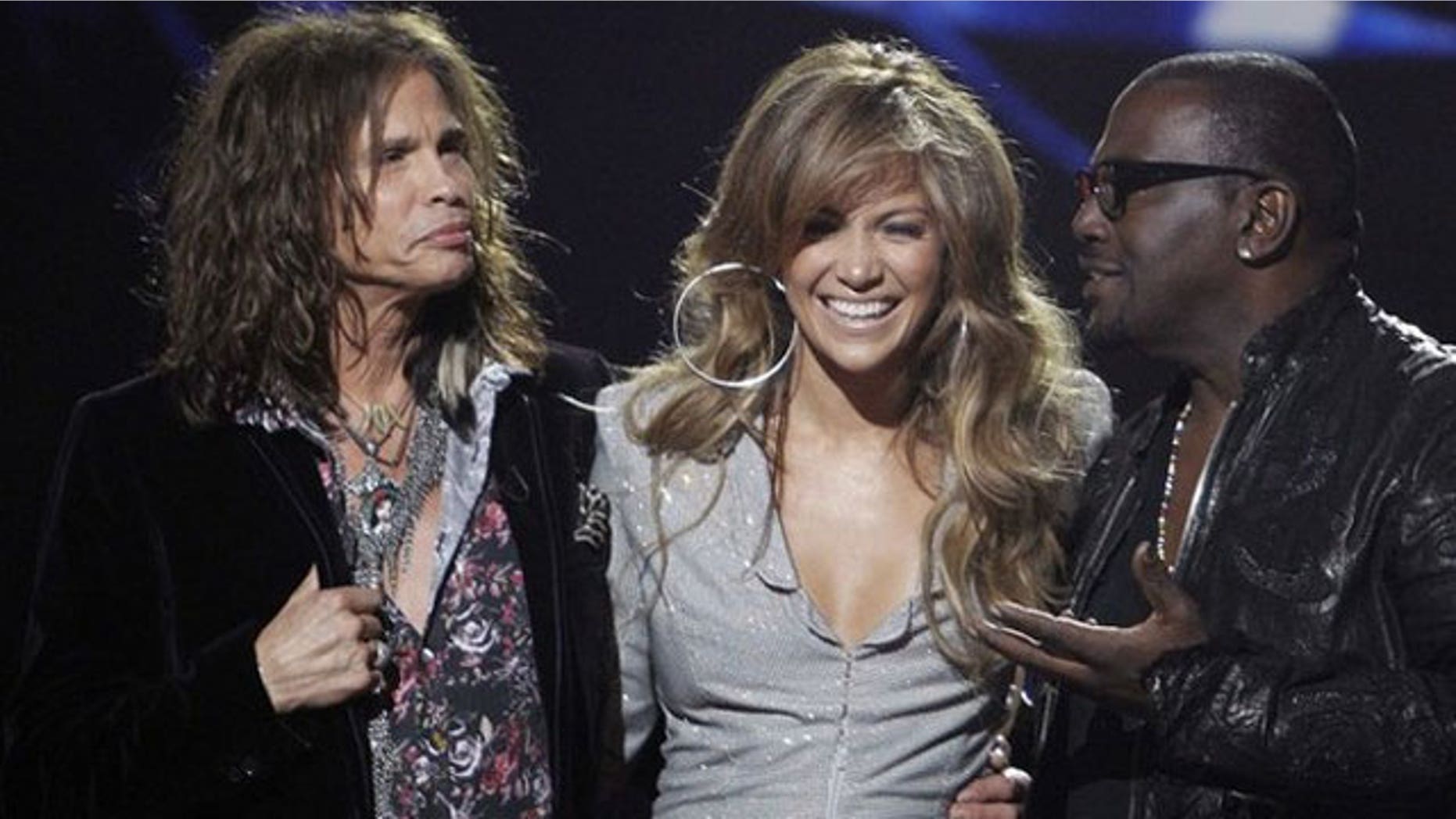 As Randy Jackson said about five times at the end of Wednesday night's "American Idol," we got ourselves a competition!
Jacob Lusk and Stefano Langone were the standouts of Wednesday's "Sing a song from the year you were born" contest (though Pia Toscana is close behind).
"Idol" saved the best for last with Jacob, who sang "Alone" by Heart. We've always been big fans of the '80s power ballad, and Jacob delivered on the song's emotional impact. He also opened himself up to a whole new fan base by NOT singing gospel -- a brilliant move on his part.
Stefano Langone also made an emotional connection with Simply Red's "If You Don't Know Me by Now." Stefano, as America knows, was a wild card pick, but he's certainly proven why he's still in the competition. Randy called it "the best performance of the night so far," and Jennifer Lopez even predicted, "You can take this thing."
Lovely Pia Toscana turned in her third consecutive killer vocal on "Where Do Broken Hearts Go" by Whitney Houston, but we were a little disappointed by the remix. The beat made us feel like we were at a dance club, which distracted from Pia's beautiful singing. But J-Lo was relieved to hear something up-tempo from Pia, and Randy declared that she's "In it to win it!"
Scotty McCreery had another great week singing "Can I Trust You With My Heart?" by Travis Tritt, prefaced by an adorable segment about how he's been impersonating Elvis since the day he was born. Could this guy get any more likable?
Casey Abrams, James Durbin and Paul McDonald all landed themselves in a category that we like to call, "Interesting to watch but not as great as we hoped." We were psyched to hear that Casey was singing "Smells Like Teen Spirit" (the first time a Nirvana song was ever performed on "Idol"), and while it was fun to watch the "fearless" Abrams, sometimes he puts a little TOO much humor into his performances. Or too much brain and not enough heart. But he's awesome anyway and by far one of the most exciting "Idol" contestants ever.
Paul McDonald has such a cool vibe and such a unique voice (not to mention one of the best smiles in show biz) that we'd be surprised if he doesn't wind up making a name for himself somehow. The judges thought he was a little pitchy this week (or nasally due to his cold) on Elton John's "I Guess That's Why They Call It the Blues," but they seemed to agree with Steven Tyler that he "defines a cool dude in a loose mood." Whatever that means.
As for James Durbin, we're big fans -- but unfortunately, he kind of sapped the love out of one of our favorite '80s make-out ballads, "I'll Be There for You" by Bon Jovi. He definitely had the hair metal part down, but we would have liked to see his softer side, too.
VIDEO: Watch the performances again.
Former front-runner Lauren Alaina sang Melissa Etheridge's "I'm the Only One," and Randy declared that she was "back," even with a cold. She definitely improved upon the last couple of weeks, but we're still waiting to see the superstar Steven spotted at auditions.
Karen Rodriguez also improved from last week, performing "Love Will Lead You Back" by Taylor Dane. She sang a few lines in Spanish as per her trademark (Steven loved it when she broke into her "ethnic what-it-is-ness"), and Randy also welcomed her "back" to the competition. At the very least, her sister is one step closer to meeting Nick Jonas.
Thia Megia, who is probably one of the most talented singers in the competition, is still slipping, for one main reason: She can be a little boring. Singing Vanessa Williams' "Colors of the Wind," Thia as usual reminded us of a Disney princess. But that's not necessarily a good thing: Randy read our minds when he said he "felt like I was at a pageant somewhere -- it was so boring tonight."
But if anyone's in danger (and someone has to be), we'd say it's Haley Reinhart or Naima Adedapo. Haley sang "I'm Your Baby Tonight" by Whitney Houston, and worked her usual sex kitten act (which proved difficult, as she had red lipstick on her teeth and chin. We've been there, Haley!) We do kind of dig her sexy, throaty, voice, but we're not sure she rises to the level of some of the other contestants.
Finally, Naima Adedapo probably has the best chance of going home on Thursday night. Naima sang Tina Turner's "What's Love Got to Do With It," and again, she kind of sucked all the emotion out of the song. True, Adedapo seems to be going for more of a hip-hop style, sort of like Rihanna or Fergie, but she's not impressing anyone with her singing: J-Lo expressed concern that "she won't hold up against everyone else," and Randy even reneged on his praise from last week. Ouch!
--Jennifer D'Angelo Friedman, PopNews Wire