It took 'Duck Dynasty's' John Luke Robertson years to snag fiancee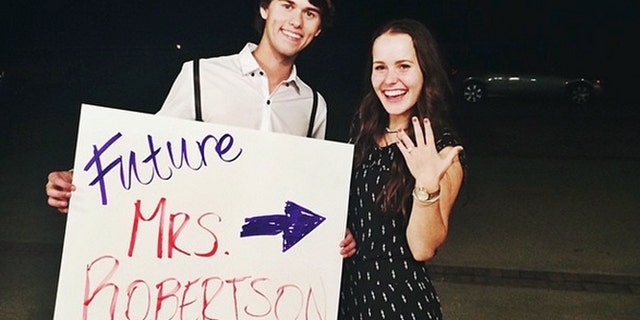 "Duck Dynasty's" John Luke Robertson may be happily engaged to Mary Kate McEacharn now, but it took the reality star years to convince his fiancee to date him.
The couple met in Christian summer camp four years ago but it wasn't until March 2014 that McEacharn agreed to date Robertson.
"I had tried to date her before, and she kept turning me down!" Willie and Korie Robertson's eldest son told Us Weekly. "I just kept at it and she finally said yes!"
News: How did John Luke Robertson propose?
Turns out all it took was a little talk about Jesus that finally won over McEacharn.
"She never gave me the time of day until I started talking about Jesus," Robertson said. "That was the only thing we could ever talk about. And I knew then that she was a good one, because she would help me grow in my faith… And she was pretty good looking!"
While it might have been an easy decision for Robertson to ask McEacharn to marry him, his fiancee was "shocked" by the proposal.
"I honestly had no idea," McEacharn told Us. "I think I went into a stage of shock. I was just like, 'Is this for real?' He was like, 'Yeah.'
PHOTOS: Before they were on 'Duck Dynasty!'
But what did mom and dad think?
"I talked to my parents, and they were thrilled! I asked her dad, and after an interrogation, he was thrilled!" Robertson wrote on his blog.
WATCH: Break Time: Sadie Robertson's school has no dancing