Is Lynwood Correctional Facility 'Lindsay Friendly'?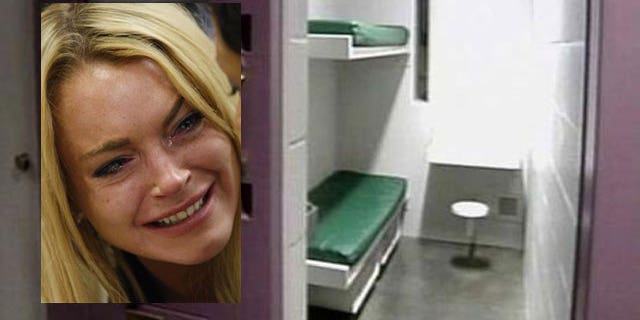 Lindsay Lohan won't be tweeting for more than a month starting today, and Twitter isn't the only thing she'll have to do without.
How will the starlet do in a 12-foot-by-8-foot jail cell?
And how does the Lynwood Correctional Facility stack up?
FOX411.com took a look at what's in store for her at her new accommodations.
RECREATIONAL OPPORTUNITIES: Thumbs Down
She gets to leave her cell for one hour each day, so recreation will be severely limited.
Also, no Twitter, drugs, designer clothes, jewelry, cell phones, computers or cigarettes are allowed. But she will get a full-strip search and orange jumpsuit upon arrival.
In "formal intake," prison officials perform a full cavity search lifting up her mouth and tongue, Darmar Strong, owner of Second Chance Bail Bonds in Los Angeles told FOX411.com. Inmates remove their clothes so officials ensure that no drugs are hidden in crevices and smuggled into jail.
Like all inmates, Lohan will receive simple toiletries: toothbrush, toothpaste, soap, comb, deodorant, shampoo and shaving implements.
JAIL MENU: Thumbs Down
Tonight's menu is Turkey Tetrazzini, a turkey casserole with noodles, mushrooms and cream sauce, and it's the only option, a jailhouse source told TMZ.
The meal's sides are applesauce, broccoli coleslaw and wheat bread.
Lohan will even get milk.
Going forward, if she doesn't like the jail's generous helpings of Spam and mayonnaise, then she can order apples and ramen soup like fellow star Alexis Neiers.
Jail for Neiers, who is serving a six month sentence at Lynwood for breaking into Orlando Bloom's home, and Lohan won't be that much different, Neiers' attorney Jeffrey Rubenstein told FOX411.com.
But will Lohan appreciate the facility's water quality?
Andrea Neiers, the mother of the E!'s "Gone Wild" star, tweeted earlier this month that the facility's water was making her daughter ill. However, Rubenstein said Neiers was coping well.
Fingers crossed for Lohan.
No matter what, she will be offered three times a day on a 2,000 calorie diet, which could include sandwiches, juice and milk, Strong told Pop Tarts. So, she has some options. But not very good ones.
MAKING NEW FRIENDS: Thumbs Down
Lohan may have a hard time making friends in the all-female jail, where prisoners "earn some stature if they assault somebody famous," Santa Monica based Criminal Defense Attorney Steve Cron told FOX411.com.
Plus there are those reports of lesbian gangs....
Unfortunately, former girlfriend Samantha Ronson won't be there for company – something Lohan wanted during her recent stay at a sober living house owned by attorney Robert Shapiro.Lohan will be allowed to only see her family on two scheduled days per week.
Lohan will be living alone in a private cell for her safety, according to the AP. Which means no bonding with bunkmates.
TIME TO DECOMPRESS: Thumbs Up
Good thing the Los Angeles partier has had practice being up at odd hours of the day.
She'll need that experience for arm bracelet checks at midnight, when cell doors open at 3 a.m., early wake up calls and constant bright light, Rubenstein said.
"It's hard to have a good night's sleep," he said.
But Lohan has this one in the bag. She already plans to do lots of art and drawing to pass the time, a source close to her told FOX411.com.
If the star maintains good behavior, she could catch a break. Because of jail overcrowding and a state program, nonviolent female misdemeanor offenders like Lohan serve only about 25 percent of their sentences, the Los Angeles County Sheriff's Department spokesman Steve Whitmore told AP.
Lohan spent about 84 minutes of a daylong sentence at Lynwood in 2007 for a drunk driving offense, because officials said overpopulation was a problem.