Hulk Hogan returns to WWE ring at Crown Jewel pay-per-view, first appearance since 2015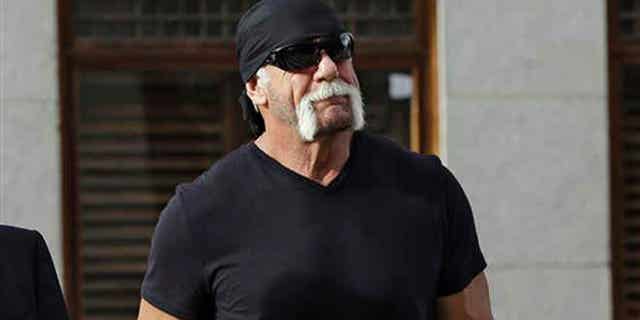 Hulk Hogan returned to a WWE ring Friday as he made his first appearance since 2015 at the controversial pay-per-view Crown Jewel in Saudi Arabia.
Hogan, whose real name is Terry Bollea, kicked off the event by coming out to a packed crowd in his full red and yellow "Hulkamania" gear along with a red and yellow boa around his neck.
"You know something maniacs, it feels so good to be out here in front of the whole WWE Universe and to be out here with my stark raven Hulkamaniacs," Hogan said in front of the crowd.
Hogan was fired from the WWE in 2015 after the release of a sex tape and a video of him using the N-word.
WWE announced in July he was reinstated into the WWE Hall of Fame.
"This second chance follows Hogan's numerous public apologies and volunteering to work with young people, where he is helping them learn from his mistake," the company said in a statement.
The 65-year-old former champion's return to the ring was his first since he was fired by the company.
He told the crowd it felt good to know support from his fans was still strong.
"It's great to see you guys. It's awesome to be here, back in the WWE," Hogan said. "It's unbelievable to be your host tonight. And guess what maniacs? The show starts right now. So whatcha gonna do when the power of Hulkamania and the Crown Jewel run wild on you, brother?"
Hogan's appearance on Crown Jewel comes as the company came under fire for still having the event in Saudi Arabia despite the murder of Washington Post columnist Jamal Khashoggi on Oct. 2 in the Saudi consulate in Turkey.
"WWE has operated in the Middle East for nearly 20 years and has developed a sizable and dedicated fan base," the company said in a statement alongside third-quarter financial results. "Considering the heinous crime committed at the Saudi consulate in Istanbul, the Company faced a very difficult decision as it relates to its event scheduled for November 2 in Riyadh. Similar to other U.S.-based companies who plan to continue operations in Saudi Arabia, the Company has decided to uphold its contractual obligations to the General Sports Authority and stage the event."