Helping 'NJ Housewife' Teresa Giudice Survive Bankruptcy? There's an App for That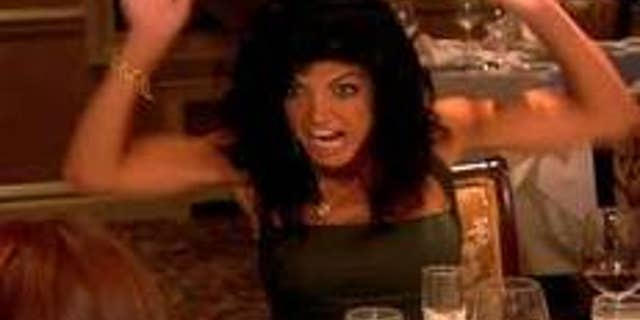 NEWYou can now listen to Fox News articles!
Last October, after falling almost $11 million in debt, table-flipping "Real Housewives of New Jersey" star Teresa Giudice and her husband filed for Chapter 7 bankruptcy.
Ten months later, the Giudice family is auctioning off the contents inside their 16-room, 10,000 square-foot Towaco, NJ mansion.
"All I can do is rise above it, keep my head high and know that at the end of the day, I have my family, my health and I'm in God's hands," Giudice recently wrote on her Bravo blog. "Nothing else matters -- certainly not a lamp."
FOX411: Danielle Staub Having 48th Birthday Party at ... Scores.
But the Giudices aren't going through bankruptcy alone. A tech company is encouraging Americans to help ease the Giudices' monetary blues. Acting on suggestion from a Giudice fan, social networking company PHILO launched the Save Teresa Fund iPhone app.
"Effective immediately through August 21st, when you check-in to 'Real Housewives of New Jersey,' Philo will donate $.01 to the Save Teresa Fund. One hundred percent of the proceeds will go towards helping Teresa reclaim what is rightfully hers and buy her possessions back at auction," read the humor-driven press release. "To memorialize this momentous occasion, a limited edition "Save Teresa Award" will be unlocked every time a cent is donated."
RELATED: New 'DC Housewife' Says She's Ready for Drama.
While the company obviously has light-hearted, good intentions in their quest to help a woman in need, some feel it makes a mockery of real causes that require help in America.
"These kinds of staged promotions can trivialize serious efforts by organizations and families who are in dire need of help when a true catastrophe strikes and harms innocent people. Fortunately, in the long run, the Save Teresa Fund itself won't matter much, but the cumulative effect of such publicity stunts can cause people to ignore sincere fund-raising efforts in the future," said Gene Grabowski of Levick Strategic Communications. "We know from experience that a growing number of people are already experiencing 'cause-fatigue' due to the increasing number of fund-raising efforts. As a result, people are confused about how to tell the difference between causes that matter and the sillier campaigns like Save Teresa."
According to another expert, this new fund simply illuminates just how deplorable our society has become amid the reality television craze.
"It's a sad state of affairs as a culture when a company needs to promote their brand using a trashy reality show and one of their zany characters as a way to advance their product," New York-based PR expert Adam Weiss said. "There are so many other worthy causes that need the help of American citizens. Floods, oil disasters, diseases, I don't think one of the NJ Housewives losing her home because of their bad business decisions is quite on the same par with these other causes."
And despite the initiative's tongue-in-cheek approach (after all, Philo intends to only donate a mere penny per person who checks in), many aren't laughing.
"We did feel bad for Teresa and her family when we heard that they had filed for bankruptcy and were auctioning off the contents of their home—like their prized suit of armor and pair of go-karts," added Kate Torgovnick of pop culture site TheFrisky.com. "But even if $5 ends up going her way, we'd still rather see it going to help with damage from the oil spill in the Gulf Coast."
Giudice did not respond for comment.