Hayden Panettiere Defends Convicted Murderer Amanda Knox: She's Not a Malicious Girl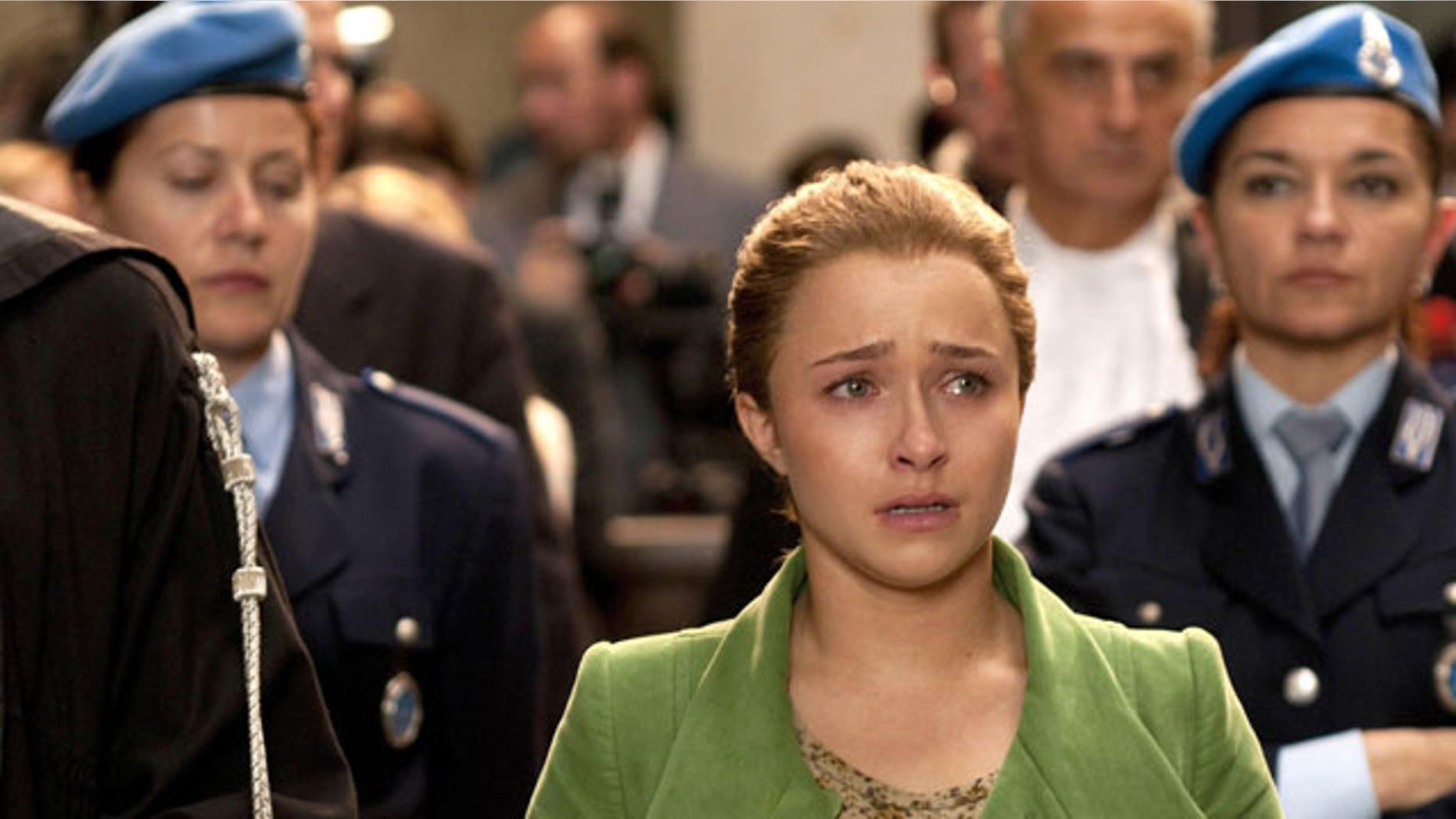 The actress playing the killer of British sex-murder victim Meredith Kercher in a gruesome TV movie has sparked further outrage with some crassly insensitive comments.
Hayden Panettiere, 21 -- best known as cheerleader Claire Bennet in the hit TV show "Heroes" -- robustly defended her real-life role and even questioned Knox's guilt.
This as Knox's family and the family of her Italian boyfriend Raffaele Sollecito try to block the film from being broadcast on Lifetime on February 21 until after the appeal of their convictions.
Knox and Sollecito were jailed for 26 years after being convicted of the murder of 21-year-old Meredith Kercher, who was stabbed to death after being sexually assaulted.
But Panettiere, who said she "jumped up and down" when she learned she had landed the role, said, "We spent five weeks talking about it and reading about it and looking at new evidence, trying to form some sort of opinion about it.
"It's like, 'She's innocent. She's guilty. She's innocent. She's guilty. She's innocent'. I can't say I have an opinion and that's why the story is so interesting - the facts and what people said and the changes in stories."
"This is such a vulnerable story, and specifically, Amanda was so needy. My job was to play a girl who, regardless of what happened, was innocent in who she was. She's not a malicious girl. She didn't have any intention to do this. This wasn't an angry or dark girl. Whatever it was that happened that night, people's lives were ruined. But it was my job to stay pretty true to form in who she seemed to be as a person in court and otherwise."
Meredith's dad John Kercher, described the sick footage of his daughter's death in a preview for the TV movie "Amanda Knox: Murder On Trial" as "extremely distressing".
He added: "To actually see it like this is very distressing. The scenes are absolutely horrific. It's awful what these film people have done."
In harrowing scenes, Meredith, who is played by unknown British actress Amanda Fernando Stevens, screams in terror as she is attacked by Knox, Sollecito, played by Italian actor Paolo Romio, and drug dealer Rudy Guede (Djibril Kébé).
According to a report from Deadline.com, Knox's legal team has formally petitioned Lifetime to pull the film from it's scheduled release and a trailer from it's website until the appeal is complete. Knox's lawyers are threatening legal action against the network if they do not comply by Feb. 10.
A spokesman for Lifetime's parent company, A&E, said this weekend that they had not received the letter and declined comment.
But Panettiere stands by her defense of Knox.
"It really all comes together to form this incredible story that I think people are really genuinely interested and curious in. And I don't know that we'll ever really know.
"I believe in the person that she deep down was. And I think that no matter, regardless of innocent or guilty, I believe she was a... she has a spirit," she said. "You know, she's a real person. She was a young girl who had dreams and aspirations and was going to Italy to go to school and to broaden her horizons and have experiences and meet new people. And I don't think that guilty or innocent takes away from that.
NewsCore contributed to this report.