'Hamilton' creator Lin-Manuel Miranda unveils portrait at legendary NYC restaurant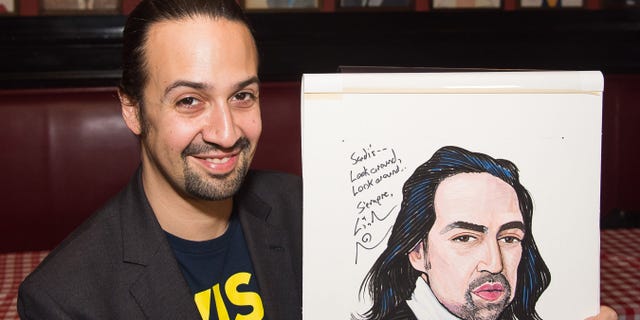 NEWYou can now listen to Fox News articles!
NEW YORK (AP) – Lin-Manuel Miranda has already this year won a Pulitzer Prize, a Grammy, the Edward M. Kennedy Prize for Drama Inspired by American History and a MacArthur Foundation "genius" grant. What more could he get?
The answer came Tuesday when the composer and writer of the Broadway smash "Hamilton" got a portrait unveiled at Sardi's, the legendary Broadway watering hole . The drawing will now hang alongside those of Whoopi Goldberg, Lucille Ball and Sally Field.
When asked how this honor was different, Miranda joked: "You can enjoy this with the best baked Alaska in town is the difference." His show is gunning for the best musical Tony Award on June 12.
Sardi's, located in the heart of midtown Manhattan's theater district, has been a magnet for celebrities, particularly in the years before and after World War II, and many of them, especially when they were appearing on Broadway, had their caricatures on its walls.
The one featuring Miranda — pictured wearing his Alexander Hamilton costume and a stern expression — will be placed near the entrance. (He inscribed it with a shard of one of his lyrics: "Look around, look around.") Over time, it will migrate up to higher floors as portraits get retired.
Some "Hamilton" cast members including Leslie Odom Jr. and Phillipa Soo as well as designer David Korins were on hand to celebrate the unveiling, including members of Miranda's family.
The groundbreaking, biographical hip-hop show tells the true story of an orphan immigrant from the Caribbean who rises to the highest ranks of American society, told by a young African-American and Latino cast.
Luz Towns-Miranda, his mother, said the walls packed with frames reminded her of the Hollywood Walk of Fame. "This is Broadway's equivalent," she said. "Basically, he's being honored by Broadway."
Mom gave the drawing her thumbs-up: "I think it captures Hamilton's reflective, tortured self and his vision of this complicated, traumatized and genius individual, who was just non-stop," she said.
Miranda said he remembers coming to the restaurant for the first time at age 12 to celebrate his sister's high school graduation. "I remember looking up at the faces — the ones I knew and the ones I didn't," he said. "So it's very surreal. Very surreal."
Max Klimavicius, the restaurant's managing partner, said it wanted to honor Miranda back when he had success with "In the Heights" but scheduling never worked out.
"He is special to me in particular because I'm also an immigrant. I came here with nothing and ended up owning this place,' he said. "So to me, it has a lot of significance."
Like us on Facebook
Follow us on Twitter & Instagram