'Hamilton' creator during speech to UPenn grads: 'Immigrants get the job done'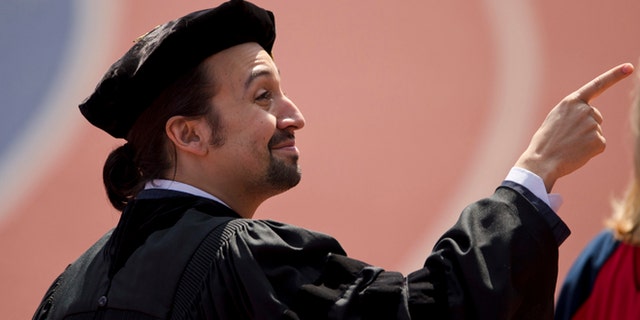 NEWYou can now listen to Fox News articles!
Lin-Manuel Miranda channeled the essence of his hit Broadway musical "Hamilton" in his Monday morning commencement speech at University of Pennsylvania, reminding graduates that "immigrants get the job done."
"In a year when politicians traffic it in anti-immigrant rhetoric, there is also a Broadway musical reminding us that a broke, orphan immigrant from the West Indies built our financial system," Miranda said. "A story that reminds us that since the beginning of the great, unfinished symphony that is our American experiment, time and time again, immigrants get the job done."
Miranda's revolutionary biographical hip-hop musical shows the life of Treasury Secretary Alexander Hamilton, who emigrated from St. Croix just before the American Revolution and went on to create the country's financial system.
He told Fox News Latino recently that "Hamilton" – much like his speech – is the story of millions of Americans since the country's creation.
"It's not capital P political. It's just a reminder that the life source of our country, the renewable life-blood of our country has always been people who come to this country to define themselves and to build lives for themselves," Miranda said. "By making a life for themselves, they often work twice as hard and make our country better."
He said through his show he wanted to remind people the contributions immigrants have made to America.
"That story of people coming here from other lands and then coming all-in in our country is always a story worth telling because you will never hear it in political discourse," he said. "You need art to remind you of that."
Miranda also used his speech to call out presumptive Republican nominee Donald Trump, who said he wants to deport the millions of people in the U.S. illegally.
It's not the first time Miranda criticized Trump for his stance on immigration. Last year, he said he will always be a counterweight to Trump's anti-immigrant rhetoric.
"As long as (Donald) Trump is out there, I will be the counterweight saying, 'We've always been here. We make our country better'," the playwright said during Advertising Week in New York last September.