Gwyneth Paltrow shows off her 'most-beautiful' body in sheer dress at 'Iron Man 3' premiere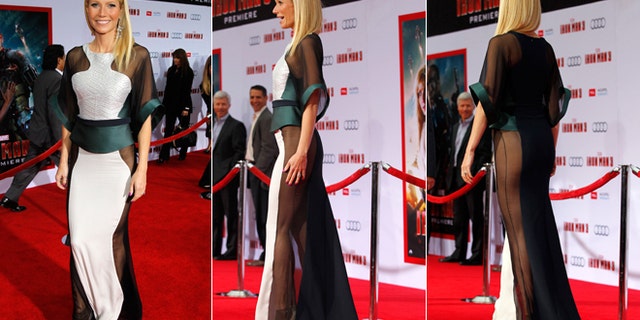 As the saying goes, "if you've got it, flaunt it." And that's exactly what the newly named "World's Most Beautiful Woman" Gwyneth Paltrow did at the "Iron Man 3" premiere on Wednesday night in Hollywood, Calif.

The 40-year-old mother of two showed off her toned backside in a partially sheer gown as she walked the red carpet, sans underwear.

Paltrow said she was thrilled to be picked by People magazine for 2013 title of most-beautiful, but it's "obviously not true."

"It's funny, these things, because it's like obviously not true. But it's very sweet to be named that," Paltrow told The Associated Press. "Because I mean you can't say that, you know! But it's been wonderful. It's been very wonderful. And as my friend said, it's so nice that someone who has kids and is a mom and is not like 21 is named that. It's really an honor."

Paltrow said her children weren't aware of the news in this week's edition of the magazine, but she'd been getting plenty of congratulatory emails from friends and family.

She stars as Pepper Potts, Tony Stark's love interest and assistant-turned-business partner in the "Iron Man" trilogy. Her co-stars in "Iron Man 3" praised People's proclamation.

"Completely justified. Completely justified. She's gorgeous," said Guy Pearce.

"Let me tell you: She is as gracious and beautiful inside as she is outside. She's got a good heart. She's got a good heart. A lovely girl," said Ben Kingsley.

The Associated Press contributed to this report.