Gomez & Bieber Backstage PDA; the Biebs to Take Paternity Test & Sue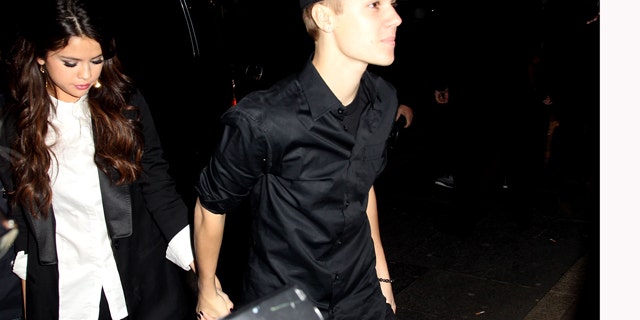 Lovebirds Selena Gomez and Justin Bieber are going strong at the European MTV awards, belying rumors that SelGo had dumped the Biebs following the paternity allegation from California native Mariah Yeater.
Entertainment gossip site HollywoodLife.com reports that Gomez and Bieber put on a backstage PDA (public display of affection) show during the MTV EMAs, which Gomez hosted and at which Bieber took home awards for "Best Male" and "Best Pop Act."
The two pop stars arrived together hand-in-hand at the MTV Voices Dinner, held at the Merchant Hotel in Belfast, Northern Ireland, Saturday night.
According to HollywoodLife.com, one of the workers helping put together the EMA's tweeted on Saturday about SelGo and Bieber's obvious affection towards one another.
"Cute! Justin Bieber & Selena Gomez just walked right past us backstage arm in arm!! So sweet!!" posted Claire Pothecary.
The PDA put an end to swirling rumors late Friday that Gomez had dumped Bieber, first reported by RadarOnline.com
An anonymous source told RadarOnline that "Selena ended it abruptly," and that she was "facing resistance from the teen idol's camp who want her to stand by him."
"His camp is in damage control mode and attempting to convince her to stick around in the relationship for a few more weeks, because they fear it will be seen as an admission that something indeed took place between Justin and the woman who is alleging that he's the father of her baby," the source told gossip site RadarOnline.com
Bieber has agreed to take a DNA test to prove he is not the father of Mariah Yeater's three-year-old son, TMZ is reporting.
TMZ also says that Justin's camp are threatening to sue Yeater after the results of the paternity test are in.
You can reach Alexandra Gratereaux at: Alexandra.Gratereaux@foxnewslatino.com or via Twitter: @GalexLatino
Follow us on twitter.com/foxnewslatino
Like us at facebook.com/foxnewslatino