Gloria Allred: Mark Burnett should release Donald Trump 'Apprentice' footage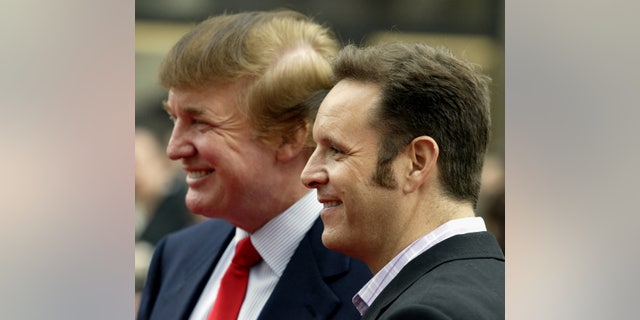 Gloria Allred appeared near the of MGM's corporate offices in Beverly Hills on Tuesday, urging the company and producer Mark Burnett to release additional footage from "The Apprentice," the reality TV competition that Republican presidential candidate hosted for 14 seasons.
Allred said at a press conference that it was in the "public interest" that the tapes be disclosed "immediately unless there is a legal prohibition to doing so."
Burnett issued a statement on Monday in which he said that he "does not have the ability nor the right to release footage or other material from 'The Apprentice.' Various contractual and legal requirements also restrict MGM's ability to release such material."
But Allred said that she was sending a letter to Burnett proposing that she meet with him to discuss the legal prohibitions, or that he disclose those restrictions to a panel of three retired judges who could determine if the footage can be released. Although the judges would be bound to confidentiality in their review of the restrictions, their conclusions should be made public, she said.
A leaked 2005 "Access Hollywood recording, in which Trump makes lewd and vulgar remarks about women to Billy Bush, has been a bombshell in the presidential race. It has turned attention to "The Apprentice" and whether Trump has made such remarks that were edited from the show or are featured in outtakes.
Allred said that before and after the "Access Hollywood" tape was disclosed, she had been contacted by women who have described "inappropriate conduct by Mr. Trump." But she declined to go into any more detail, citing attorney-client privilege.
She was joined by Jerilyn Stapleton, president of California NOW, and Carolyn Fowler, Southern Chair, California Democratic Party Women's Caucus. Also joining was civil rights activist Dolores Huerta, a board member of the Feminist Majority.
They all signed their names to another letter they planned to send to Burnett. They wrote that the "Access Hollywood" tape revealed "what Donald Trump really thinks about women, and his pride in using his celebrity as a blank check for sexual assault. Now, the election may turn on what further evidence exists of Donald Trump's hate speech, rampant misogyny, or wrongdoing.
"As president of MGM Television, you have that evidence, and releasing it is your civic duty."
A spokeswoman for MGM did not immediately return a request for comment. They had planned to deliver the letter to the MGM offices, but security guards stationed outside on Beverly Drive told them they would not be allowed in the building.
In 2012, Allred represented a transgender Miss Universe Canada contestant, Jenna Talackova, who was barred from competition. Trump, who owned the pageant, eventually allowed her to participate.
Allred did note that she was a California delegate for Hillary Clinton at the Democratic National Convention.