Giving Up Big Money Job for 'Runway' Dream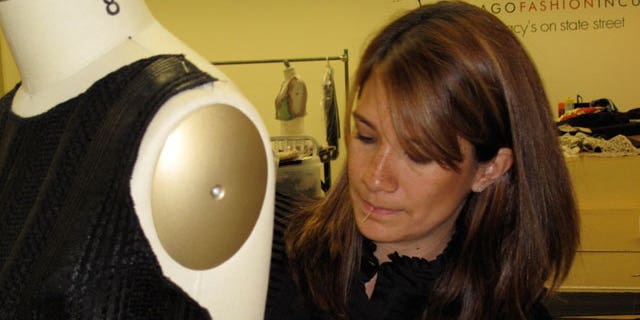 The day before one of the biggest nights of her new career, Nora del Busto, a self-described control freak, has less than 12 hours to finish making her own dress.
"It's a nervous kind of exciting time right now," says del Busto. She is one of six up and coming Chicago designers to showcase their 2010 Spring lines at Macy's Fashion Focus runway show in Chicago, the kickoff event for the city's annual Fashion week.
Growing up, del Busto helped her mother pick out fabrics to make her dresses, but she never dreamed of becoming a designer until she was already in law school. Del Busto worked for three years as a personal injury attorney until she realized it "wasn't her cup of tea." In 2005, she left the courtroom drama behind for the catwalk to pursue a career in fashion design.
VIDEO: Click here to see an interview with Nora.
"I realized all my law school notebooks were filled with sketches and I knew I had to do something creative, so I visited the International Academy of Design and Technology (in Chicago). I got excited, I signed up. Three years later, I'm a designer. It was a huge risk. Finding a design job in Chicago is not easy."
SLIDESHOW: Click here to see photos of Nora del Busto's last minute preparations.
Del Busto got a much needed boost, when she was chosen as one of six designers to participate in the Chicago Fashion Incubator (CFI) housed on the top floor of Macy's flagship store on State Street in downtown Chicago. It's a scene straight out of the hit reality show, "Project Runway."
But del Busto says CFI operates with a lot less drama. "There's not that drama, we get along here, it's not that crazy, it's not catty. I mean it's entertaining, and it's definitely stressful but it's not as crazy."
CFI – a one year program - provides budding designers with design studio space, seminars tailored to launching their own business as well as access to a few of the most famous names in the fashion industry, including Tommy Hilfiger and Rachel Roy.
"Tommy Hilfiger agreed to be an honorary mentor to these designers and we are absolutely thrilled he did that," says Andrea Schwartz, Macy's Vice President of Media Relations. "The six designers we have this year are all incredible. It's not an easy career to get into. We applaud them for wishing to stay here in Chicago."
CFI's Executive Director, designer Lara Miller says it's not uncommon for designers to pursue fashion as a second career. "I really don't think there is a right or wrong way to approach your career as a designer. The one thing designers all share, is a genuine 'won't back down' work ethic and ability to multi-task." Miller adds any successful designer must have "an eye for your customer's need, focus and complete disregard for sleep! " In fact, Miller used to keep an air mattress in her design studio for catnaps after pulling frequent all-nighters.
Nora Del Busto says she couldn't be happier with her decision to pursue fashion design, "I don't regret going to law school. I can negotiate my own contracts now. I know I'm not going to be taken advantage of. I'm glad I did it the way I did. It worked out for me."