GIFT GUIDE: 'Real Housewives' Share Beverly Hills Holiday Traditions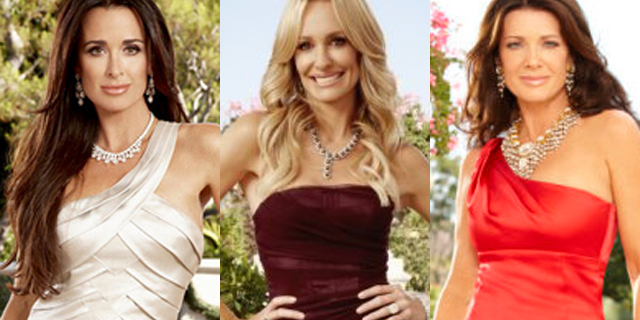 There may not be snow on Christmas in Beverly Hills, but that doesn't mean that the stars of Bravo's hit series aren't celebrating the holiday season.
"Our main tradition during the holidays is spending time with the family," Kyle Richards Umansky, aunt to Paris and Nicky Hilton and big sister to her "Real Housewives" costar, Kim, tells FOX 411.com. "We all wake up early in the morning, cooking the turkey—there's always a competition between Kim and I over who's turkey's better! We celebrate both Chanukah and Christmas because I converted about fifteen years ago. I've gotten really good at kosher cooking, I use California Kosher and The Jewish Holiday Kitchen—you'd never know I wasn't born Jewish!
'Housewife' Taylor Armstrong, who famously threw a $60,000 birthday party for her four-year old daughter Kennedy, is keeping things low-key this Christmas. "We'll have a few friends over, have people in and out all day on Christmas, we'll cook—but it's going to be a really homey day for us," Taylor tells FOX411.ccom. "I have two stepchildren and I'm lucky enough to have all three kids here during the holidays, it's just great to see them all together. We go and pick out our tree as a family, we decorate, we listen to Christmas music—all of those kinds of things."
What's different is their after-party.
"After Christmas, we'll go to Deer Valley and take the family skiing. I've been so busy with the show, it'll be nice to be home with the family and relax," she said.
British-born 'Housewife' Lisa Vanderpump plans on just trying to keep up."During Christmas, I end up just running around after everybody," Lisa told FOX411.com. "That's what my job is for some reason—I spend the whole time cooking and decorating."
Of course, this is Beverly Hills, so what better way to follow up the holiday madness with some expensive pampering?
"After Christmas, we're going to relax at the Ritz-Carlton in Laguna Nigel—the spa there is amazing! We get couples' massages, I get to bring Jiggy the dog—we love it."
Luxuries aside, Taylor, Lisa and Kyle also make sure that they remember the true spirit of the holiday season by spending time working for their favorite charities.
"With this time of year, we're preparing for the 1736 Family Crisis Center Holiday Boutique," Taylor said. "[It] allows the women and children who have been in our shelters to shop for one another without money. They can 'buy' gifts for each other for the holidays, because they left behind most of their personal belongings and obviously are not in an economic position to purchase gifts for one another. Some of the Holiday Boutique donors include 7 For All Mankind—they've been very generous with us this year. I also have a business called Four Truffles, which is a line of luxury body care products that we're including in the boutique. And this year, Sama Eyewear is donating sunglasses. There are so many brands that help us, and it's a very special time of year for me."
"We're passionate about helping the homeless," Lisa said. "Every Monday at Villa Blanca, we feed the homeless. We're also launching the Villa Blanca Wine, it's going to be available across the country and all the proceeds go towards Keep the Memory Alive, a charity that benefits Alzheimer's research."
"Every year, we adopt a family through Children's Hospital. We love doing that—it's one of my favorite things to do," Kyle said. "You adopt a family who has a terminally ill child, and you get the wish list of their entire family. The parents are so worn down because they're going through such a hard time—a lot of them have to give up their jobs to take care of their kids. So we get the list of the father, the mom and the kids. Then, my daughters and I go shopping for them and we go to their home and bring them their gifts. We've been doing this for about six years now. It's sad, but it feels so good to put a smile on their faces."
One person who may not be feeling the charity from Kyle this year is fellow Housewife Camille Grammer, Kelsey Grammer's soon-to-be ex-wife. "Look, Camille and I are not BFFs—let's just say that. It's hard because we're very different, we clearly don't see eye to eye, and every time we try to fix things, it seems to get worse. I think at some point in life, you learn that not everyone is meant to be friends, but I would send her a holiday card, for sure—but I don't know if she'll open it!"
While sending holiday cards may be a breeze for Kyle, shopping is a challenge. "I have four daughters, so a lot of my holiday shopping is clothing—especially with the kids' ages, my daughters are 22, 14, ten and two. So the older girls love House of Petro Zilla, Intermix and Madison. I met Nony of Petro Zillia through Paris and Nicky, and I just love her clothes—I wore a lot of them on the show. The younger ones love Urban Outfiters—they're all really into clothes, but they're starting to get into jewelry. And electronics are a big thing—like iPads! Apparently, everyone needs an iPad in their life. My ten-year old wants an iPad, my 14-year old wants an iPad, and my two-year old stole mine! The girls will just have to wait and see what Santa brings them."
Taylor, meanwhile, can't figure out what to get her fellow 'Housewives,' "I've been fretting—'What am I going to get the Housewives?' Then I started thinking, 'I better get them all the same thing!' You have to be politically correct when you're gifting the 'Housewives'! They're all going to get the exact same gift.
Lisa's solution for shopping for the Housewives? Don't! "They don't need anything," she said. "If they haven't got it by now, they don't need it."
KYLE'S HOLIDAY GO-TO'S
Children's Hospital Los Angeles
California Kosher: Contemporary Traditional Cuisine
Jewish Holiday Kitchen: 250 Recipes from Around the World to Make Your Celebrations Special
TAYLOR'S HOLIDAY GO-TO'S
1736 Family Crisis Center Holiday Boutique
LISA'S HOLIDAY GO-TO'S