'Game of Thrones' stars Emilia Clarke and Jason Momoa recreate epic 'Dirty Dancing' lift during cast party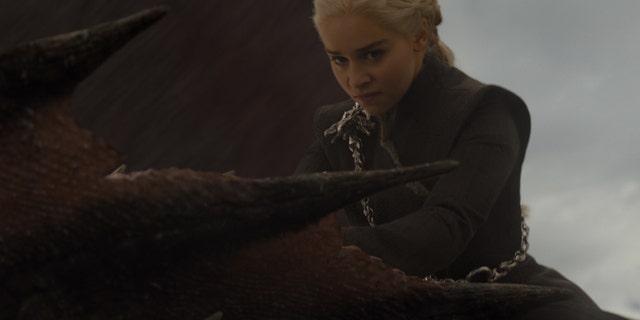 "Game of Thrones" star Emilia Clarke reunited with her former on-screen love interest, Jason Momoa, during a cast party in Ireland over the weekend. The dynamic duo showed off their strength and acrobatic skills by recreating the epic lift from the 1987 hit "Dirty Dancing."
"FYI...This is the closest you'll ever get to me attempting 'that lift' from dirty dancing," Clarke captioned an Instagram post on Sunday.
In the photo, Momoa is holding a stiff Clarke with her arms outstretched, though the actress had to admit Momoa did not compare to Patrick Swayze. He wasn't lifting her above his head —instead, she was chest-level.
"Yes, my man is sitting. Yes, there's no lake," she continued. "Yes, I have no idea [why] I'm NOT being raised above his head (Id like to take a moment to thank alcohol for giving me courage to attempt this. Ever)."
Clarke's character on the HBO fantasy series, Daenerys Targaryen, was once married to Khal Drogo, played by Momoa.
Several hours later, Momoa posted a GIF of himself and Clarke.
"Moon of my life @emilia_clarke every time I leave you my face hurts from smiling to much. I F---ing love you forever," he wrote. "Aloha j."
He then posted eight more photos on the social media platform. Multiple snaps showed him with actors from the hit HBO show, including showrunners, David Benioff and D.B. Weiss.
"I'm so grateful to be apart of the greatest show on earth," Momoa wrote. "I'm honored to be able to come to Ireland and celebrate with my friends. I'm just here for kisses and hugs and The black stuff 😜😜😜😜. mahalo David and Dan you are legends . Congrats to the talented crew and cast. Aloha j."
'GAME OF THRONES' SEASON 8 RELEASE DATE CONFIRMED FOR 2019 BY HBO
The final season of "Game of Thrones" will reportedly air in 2019.
Clarke spoke about Daenerys' last moments on camera as part of a Vanity Fair profile published in May.
"It f----d me up," she told the publication. "Knowing that is going to be a lasting flavor in someone's mouth of what Daenerys is . . ."
During the final season, Clarke revealed to Vanity Fair that she will be filming for the first time with some of the show's most famous faces, including Sophie Turner (Sansa Stark) and Maisie Williams (Arya Stark).