Gabourey Sidibe's Dress Mystery: When Plus Size Is Too Big for Hollywood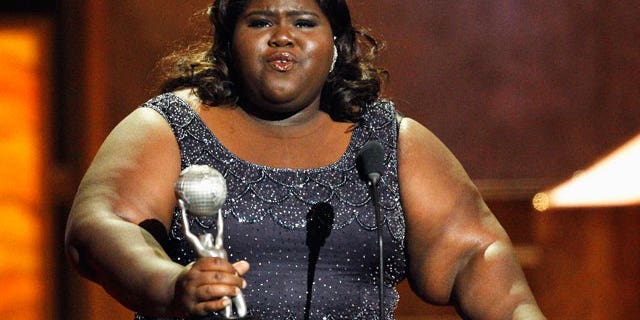 LOS ANGELES – In 2007, Oscar-winner Jennifer Hudson was the ultimate "it" girl – Vogue's editor-at-large André Leon Talley took her under his wing throughout awards season, accompanied her to red carpet events and even dressed her himself.
Continuing in the same fashion, full-figured British musician Adele was personally styled for the Grammys last year by none other than Vogue's Editor-in-Chief Anna Wintour.
So why hasn't newcomer Gabourey Sidibe been given the same star-studded styling treatment? What is considered acceptably "plus-sized" by Hollywood standards?
SLIDESHOW: The Lovely and Talented Gabourey Sidibe
"When I walk down the street in America, I see a lot of girls that look like Gabourey and very few that look like Anne Hathaway or Penelope Cruz," said AP Entertainment/Fashion expert Natalie Rotman. "We all saw Gabby at the Oscar nominee luncheon, she was basically wearing an off-the-rack black dress with ballet slippers that any of us could go out and buy. Gabourey has been wearing Tadashi, which is a great line but it's pretty contemporary. You can get it at department stores; it's not the high-end level we've seen on other girls. Let's not forget that Jennifer Hudson was wearing a custom-made Oscar de la Renta dress the year she won the Oscar."
SLIDESHOW: Is Voluptuous the New Black?
And even though the likes of Vogue Italia have played a prominent role in promoting more realistic-looking models by recently launching the Web site "Vogue Curvy" to embrace fuller figures, are high-end designers still afraid of a few curves?
"It's more of a challenge and they have better things to do with their time, according to them, and they have other clients to work with," one Hollywood stylist said. "And when you have somebody that doesn't have much of a name yet, that's also a huge issue."
A high-end boutique owner in Los Angeles agreed that dressing Sidibe could be problematic for some designers.
"I hate to say that, because she seems like such an amazing person, but she doesn't 'fit' who they design for. When I was buying for my store, most designers did not make anything beyond a size 12. I think the average size is a 14 in America but look at who's on magazine covers. They're all size two," said the boutique owner, who wished to remain anonymous.
OSCARS411 INTERACTIVE: Cast your Oscar predictions
So while there have been whispers in Tinseltown circles that the high-power designers may find it too difficult to dress "full-sized" Sidibe for this Sunday's Academy Awards, her stylist Linda Medvene said those rumors are "absolutely not true."
"Everyone has wanted to design a dress for her. She has sketches from all over the world," Medvene told Pop Tarts. "I can't name names, but she has top designers from all over the country that have submitted sketches to her."
However, exactly who will outfit Sidibe on Sunday is still under wraps.
According to USA Today and multiple news outlets, Sidibe was being fitted to wear Marchesa for the big day. Medvene,however, told us that it isn't happening.
"She is not wearing Marchesa, that's untrue. I don't know where everyone is getting this information but it's not true," Medvene insisted.
Aside from Tadashi, the 26-year-old has also been dressed by designers Kevan Hall, LBD, Monif C and Torrid throughout her awards show trail, but where are the power-player designer names?
"Throughout the awards season nominees usually wear super high-end dresses you see in the windows of Rodeo Drive," Rotman said. "So is it because Gabby is not sample size that she's only been gifted off-the-rack designers? That's my question to Hollywood."
And while Sidibe is no super-thin Gwyneth Paltrow or Reese Witherspoon, it is nice to know she hasn't allowed the pressures of Hollywood to taint her highly-deserved awards season experience.
"This is an amazing experience for her, and she's an amazing human being and she's thoughtful, kind, brilliant, and she's just on cloud nine, she's thrilled," Medvene said. "She is really easy (to work with) and she's smart, she's nice, she's beautiful and it's been a really fun project. I'm sad that it's coming to an end."
And could it possibly be that Tinseltown has actually started to transition from reel to real?
"Helen Mirren, Sandra Bullock and Carey Mulligan to Mo'Nique and Gabourey – we have a whole range of ages, sizes and ethnicities," Rotman added. "Finally, a reflection of what's going on in the real world has hit Hollywood."