'Full Frontal with Samantha Bee' scrambles to do damage control on past Eric Schneiderman praise
TBS' late-night show hosted by Samantha Bee, "Full Frontal," is in full-blown damage control mode over Bee's past praise of the now-disgraced, now-former New York Attorney General Eric Schneiderman.
Schneiderman announced his resignation within hours of an explosive New Yorker article alleging he sexually and physically assaulted four women.
Bee, 48, had invited Schneiderman onto her show last fall where she profusely praised him, calling him a "hero" and comparing him to Spider-Man. But now that the 63-year-old Democrat has been accused of choking, slapping, threatening and otherwise abusing four women during intimate encounters, Bee and her team are attempting to backtrack their love for the pervy pol.
A clip of Schneiderman's appearance on Bee's show has now been renamed "Former AG Tricks Sam Into Thinking He Was Decent" on YouTube.
In the November 2017 segment, Schneiderman is turned into "Schneider-Man" and Bee proclaims, "You are a superhero!" The "Schneider-Man" theme song includes the lyrics, "Only he can save us all."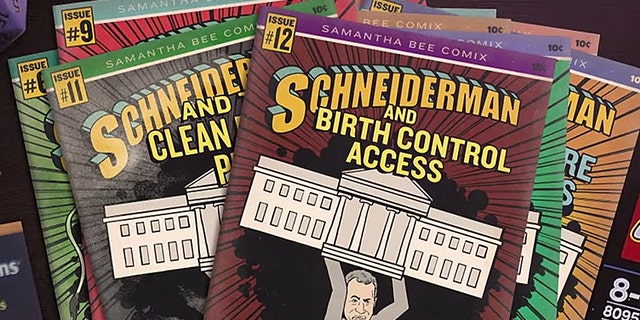 The video's description was updated with the following description: "We taped this segment before the allegations against Eric Schneiderman came to light, and we sincerely apologize for characterizing him as a hero when, to so many women, he was the vilest villain...Also, if you're a f--king disgrace, please consider not coming on our show."
Bee has also reportedly deleted tweets she sent out about the liberal Democrat. According to Jack Posobiec, Bee tweeted and then deleted a tweet that said, "Isn't there anyone who can save us from Trump?"
The allegations, which Schneiderman contests but which led him to resign, emerged Monday in an article in The New Yorker, a publication he hailed just last month for reporting on Weinstein and starting a "critical national reckoning" on sexual misconduct by powerful men.
It was a dizzying fall for a politician who put himself at the fore of the #MeToo movement and had cast himself as a defender of women ever since he worked at an abortion clinic at 17.
He is now facing a criminal investigation by a special prosecutor appointed by the governor.
The Associated Press contributed to this report.