From Smooth to Scraggly: Fiancé Jason Trawick Undergoes Spears-Inspired Transformation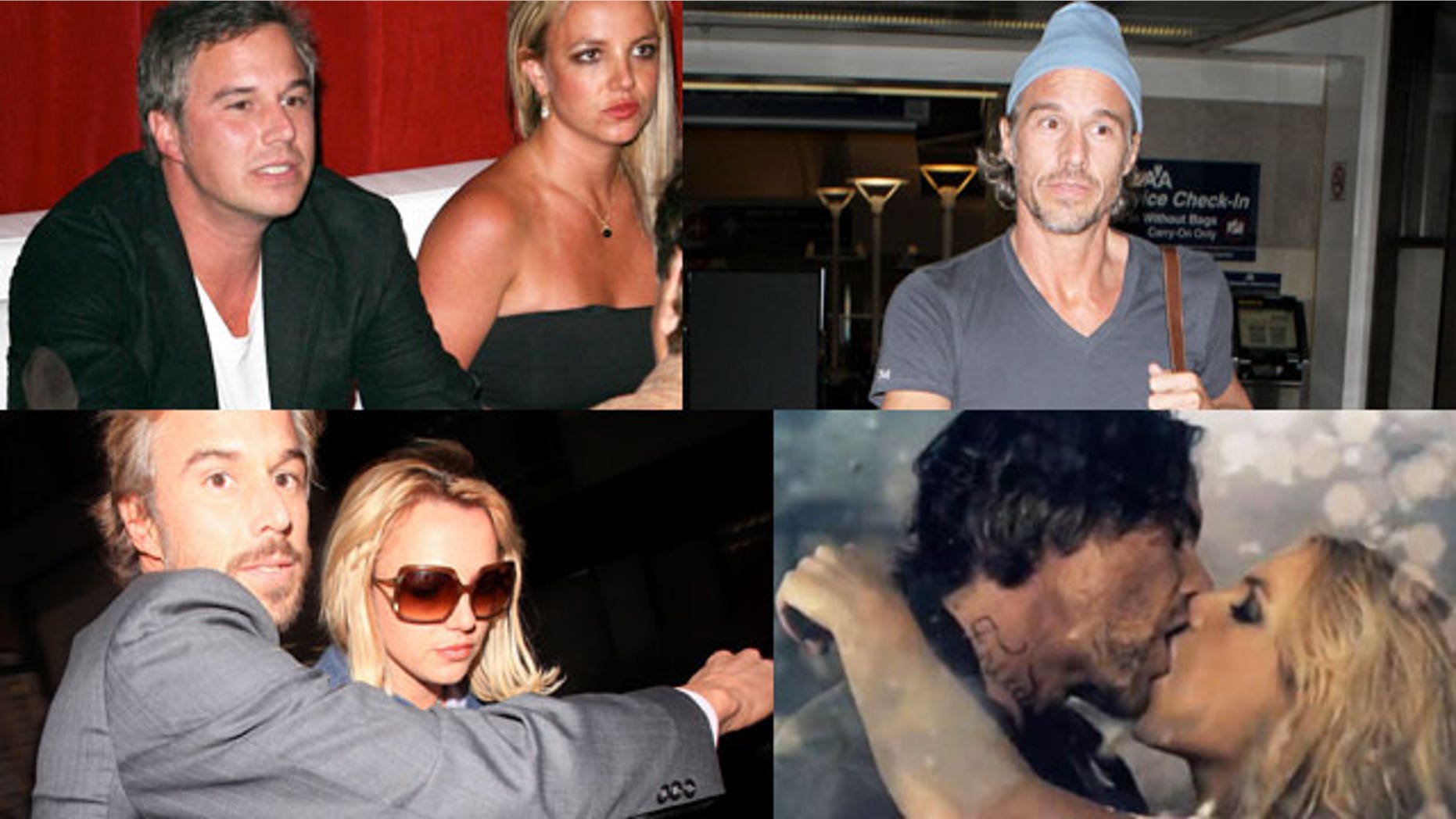 When you're on the arm of the biggest, trashiest pop princess in the world, keeping up appearances is crucial. So it may be no surprise that Jason Trawick, 40, the fiance of Britney Spears since he put a ring on it last weekend, has gone from spiffy shirts to torn trousers over the past few years.
(Although we are glad to say he is still wearing shoes.)
The William Morris Endeavor agent struck up a professional relationship with Spears in 2008 handling her business affairs, and soon after cemented a personal relationship with the troubled singer. But in May 2009, the two decided not to mix business with pleasure, and he stopped representing the world's biggest solo pop act.  
PHOTOS: Brit and Jason Get Engaged.
Things have since heated up considerably between the low-key duo, and Trawick appears to have taken some cues from the casual-yet-cute Spears and opted for a much more laid-back image. The top agent once donned designer suits, polished shoes and a slicked-back mane for his daily dealings in Beverly Hills, but over the course of dating the songstress, has grown his hair longer and filled his wardrobe with plaid shirts and ripped jeans.
He even solidified a "sex symbol" status of his own recently by appearing muscled-up and shirtless in his girl's "Criminal" music video, centered on a fictional love affair between their characters, who embark on a wild crime spree which culminates in a raunchy encounter.
"Britney Spears is a superstar and in a business where looks count a lot having a good-looking husband with rock hard abs adds to her image," publicity and branding expert Glenn Selig, CEO of The Publicity Agency, told FOX411's Pop Tarts column. "The guy in a suit doesn't go over as well with Britney's fans; but the scruffy, hip look clearly will as it is more welcoming, comfortable. He has undergone quite a transformation and since a significant other is a reflection on you, looks are important."
And while Spears is often scrutinized about her fluctuating figure, her beau's physical shape-up hasn't gone unnoticed in the blogosphere either. According to celebrity blog JustJared.com, Trawick's new body can be attributed to "cutting carbs from his diet" and dedicating time to sweating it out.
"We just like to watch movies; we work out a lot; we take walks," Spears told Ryan Seacrest's morning radio show in March.
Sounds ... fun?
According to multiple sources close to Spears, Trawick has always been a huge hit with her family, but it wasn't necessarily love-at-first-sight for the star herself.
"Initially, Britney's parents really pushed the relationship, her parents credit him for saving her," an insider said. "He is really good with her kids, great husband material."
And while he may love his leading lady, he may not necessarily love all her tunes. Last year, the power agent partied at a private residence without his famous partner, but when the DJ threw her hit "Toxic" into the mix, Trawick was quick to declare that he "hated" the song, and couldn't hear his friends talking "over her voice."
There are a few more bumps that need to be smoothed out before Brit can become a bride again, including sorting out her conservatorship, which has been in place since 2008, and gives power over all of her money-making to her father.