French Designer Blurs Line Between Adulthood and Childhood With New 'Loungerie' Line for Children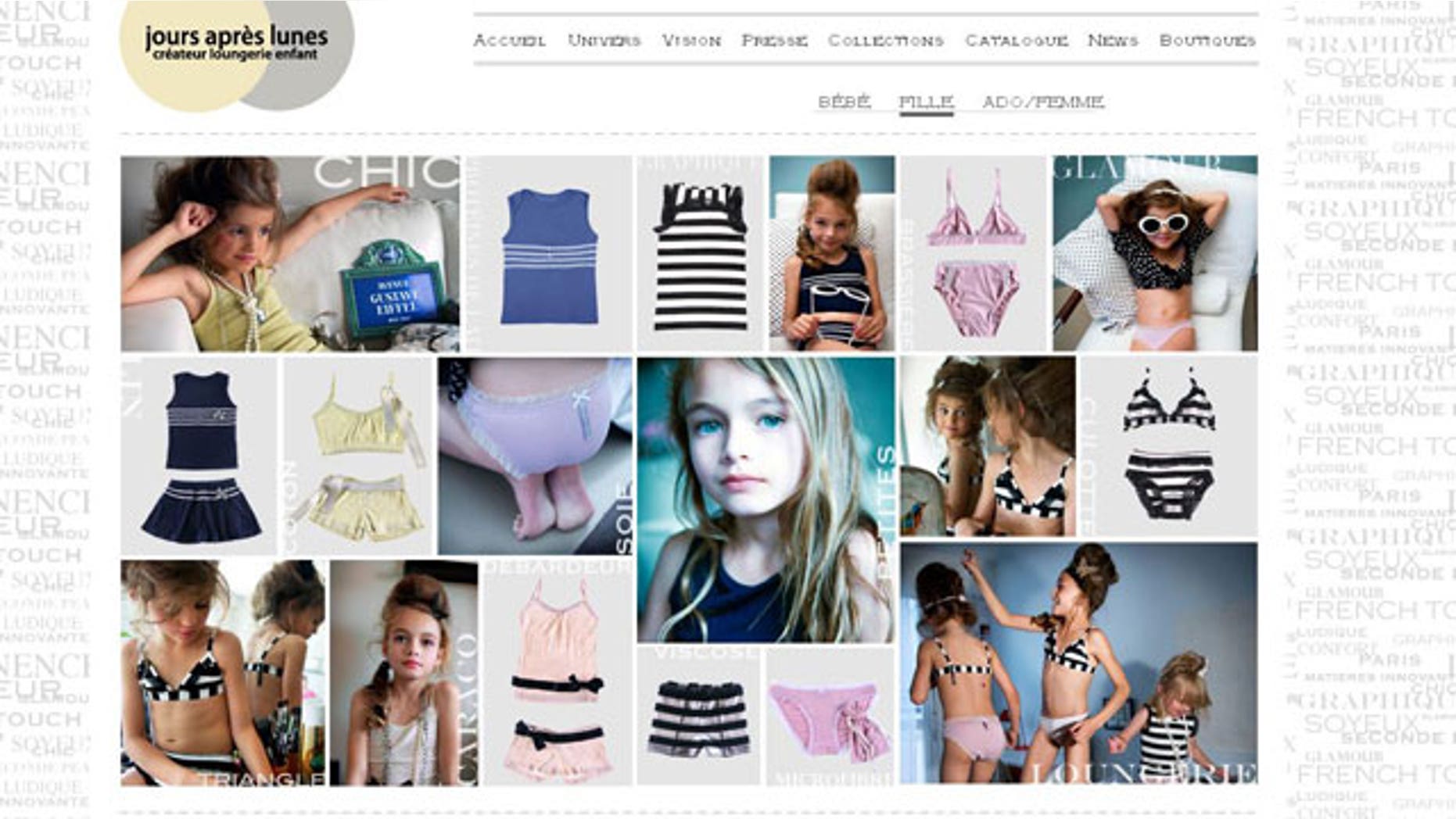 Oooo-la-wrong!
A new French lingerie line is selling provocative bras and panties for girls ages 4 through 12.
Worse, the catalog for the "," created by Jours Après Lunes, features children modeling the line in full makeup and Lolita-esque poses.
Jours Après Lunes, which translates into "Days After Moons," carries bras, panties and camisoles for toddlers. Why a 4-year-old needs a bra is not explained on the site.
Created by long-time French stylist Sophie Mori, the line describes itself as "the first designer brand dedicated to 'Loungerie' for children and adolescents." The product description says the designs are "taken from codes of lingerie, such as ribbons, croquet, giant knot, lace, frills, flounces."
Morin refused to answer questions from FOX411 about the appropriateness of the designs and the photos.
But the backlash against the designs and the campaign has already been severe.
"There's something undeniably disconcerting about the styling of the photos -- at least to American eyes. It's off-putting to see 4-year-olds made-up to look like seductive self-aware young women," Leah Chernikoff, the executive editor of Fashionista.com, the site that broke the story, told FOX411.
Fashionista.com readers were similarly horrified by the line.
"Six-year-olds don't need matching bra and panty sets, red lipstick, teased hair, or ropes of pearls! It should be obvious that the styling of these pictures will only appeal to Humbert Humbert wannabees," Susan Whelan wrote.
"Disgusting! How can anyone justify this? What happened to CHILDHOOD?," wrote Nicole Thomas.
But it's not the first time that the French have come under fire for putting children in very adult situations.
The Jours Après line follows uproar over Vogue France's recent photographs of 10-year-old model Thylane Loubry Blondeau in a skintight dress, posing provocatively on a tiger skin rug.
But according to Chernikoff, the French reaction has been that of surprise at American disgust over the blurred lines of childhood and adulthood.
"In France, though, this stuff doesn't even raise so much as an eyebrow," Chernikoff said. "In fact, the general reaction of the French media to those photos of 10-year-old Thylane Blondeau that caused such a stir was something to the extent of  – 'why are the Americans freaking out over these old photos?'"