Franco denies sexual misconduct allegations on 'Late Show'
James Franco denied the recent sexual misconduct allegations against him during a Tuesday night appearance on Stephen Colbert's 'Late Show.'
Following Franco's Sunday night win for best actor at The Golden Globe Awards, several women accused the 39-year-old of past sexual misconduct.
An unverified account for the actress Ally Sheedy tweeted, "James Franco just won. Please never ask me why I left the film/tv business."
And another, "Ok wait. Bye. Christian Slater and James Franco at a table on @goldenglobes #MeToo"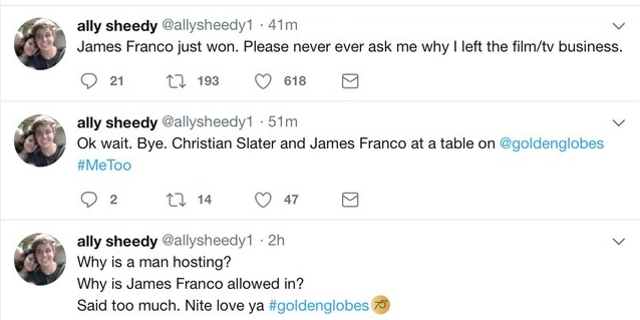 The tweets were subsequently deleted.
Franco, who previously worked with Sheedy on Broadway, said on Colbert's program, "I have no idea what I did to Ally Sheedy. I directed her in a play off Broadway. I had nothing but a great time with her, total respect for her, I had no idea why she was upset."
Sarah Tither-Kaplan, a former acting student of Franco's, alleged that he exploited her for $100 a day, despite having signed a contract.
Another Actress, Violet Play, accused Franco of sexually assaulting her and trying to lure her 17-year-old friend into his hotel room.
"I pride myself in taking responsibility for the things I've done," Franco said in his Tuesday night appearance on the 'Late Show,' but insisted that Play and Tither-Kaplan's accusaions are "not accurate."
Nevertheless, he insisted that he supports women being able to come out and "have a voice."
"I don't want to, you know, shut them down in anyway. I think it's a good thing and I support it," he said.
Following the accusations, The New York Times canceled a scheduled public event with Franco.
The event, scheduled for Wednesday, was intended to feature "The Disaster Artist" director and star and his brother and co-star, Dave Franco, discussing the film with a Times reporter.
The Times said in a statement that "given the controversy surrounding recent allegations" it was canceling the event.
The Associate Press contributed to this report.