Fox411's Top 10 Films of 2011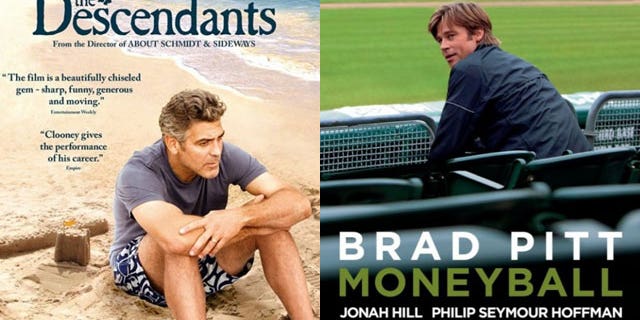 Despite a dismal year at the box office, several films gave a noble effort at restoring magic to the movies in 2011. From the tiniest of films to the sprawling epics; the tap dancing silent film stars in "The Artist" to Glenn Close's magical transformation into "Albert Nobbs"; a gun-slinging lizard in "Rango" to a "War Horse" heroically charging through No Man's Land, the year was rarely short of spark and imagination.
So without further ado: Fox411's Top 10 films of 2011.
10: Winnie the Pooh
What? A "Winnie the Pooh" film on a Top 10 list? Well, yes indeed. "Pooh" is such an innocent, unpretentious film. It is charming and laugh-out-loud funny. Pooh and friends at the Hundred Acre Wood give us an unforgettable, loony adventure that is pure joy. If this film doesn't make you feel great, check to see if you have a pulse.
9: The Descendants
George Clooney gives the best performance of his career in this poignant comedy about a father reconnecting with his children after their mother goes into a coma. Writer/director Alexander Payne is one of the best in the biz when it comes to blending sharp sarcastic whit with serious drama. "The Descendants" offers laughs and tears and a beautiful Hawaii setting. This film is a gem.
8: Extremely Loud and Incredibly Close
An uplifting - but extremely sad - tale about the effects of 9/11 on young Oskar Schell. The film is an affirmation of beauty and love in the darkest of times. Oskar embarks on a sensational journey through New York City looking for the meaning of a key his father left behind after his death. This is a beautiful piece of filmmaking and Thomas Horn as Oskar and Max von Sydow as his elderly friend are sublime.
7: Moneyball
Who would have thought a film about baseball scouts, statisticians and managers would be so compelling? Screenwriters Aaron Sorkin and Steve Zaillian knock it out of the park as does Brad Pitt, with his most convincing performance yet. "Moneyball" is an alternative look at the sport and that's just what the exhausted genre needed. This sports movie is crisp and refreshing and is the best in the genre since "Rudy."
6: Tinker, Tailor, Soldier, Spy
A brilliant portrayal of British Cold War spies based on the John le Carré novel. The film is a gloomy and ethereal espionage thriller that is the most subtle edge-of-your-seat thriller you will ever see. The film has an affinity for quiet tension that a pin drop would have the effect of a grenade. Gary Oldman's performance is bloody perfect, too.
5: The Debt
Last year nobody ever heard of Jessica Chastain. This year she was in every other movie. "The Debt" has her best performance, and one of the best performances of any actress this year, too. The film is a nail-biting thriller with two timelines and two casts, both equally fantastic. We are in debt for getting an impressive revenge story, the creme de la creme of actors acting and intricate direction by John Madden.
4: Super 8
What does it say when a Steven Spielberg homage film is on the list and a real Spielberg film isn't? J.J. Abrams takes the essence and magic from Spielberg's early films and transports them into, above all, a great story, ripe with fantastic, identifiable characters, snappy dialogue and an emotional journey packed neatly into a sci-fi adventure. Hollywood blockbusters often take the audience for granted and are rarely given the chance to let us care about the characters. "Super 8" does, which makes it super great.
3: Midnight in Paris
Woody Allen's latest is pure movie magic. Allen drops the cynicism in place of an affectionate trip through 1920s Paris, where we are introduced, among others, to Ernest Hemingway, F. Scott Fitzgerald and Salvador Dali. It's the best romance in a decade and a love letter to artists everywhere. "Midnight in Paris" will rekindle your passion for the arts, and where better to fall in love again than in Paris.
2: The Artist
This silent film just gets it right. The story is so simple it's elegant. The two leads Jean Dujardin and Bérénice Bejo are the best acting duo of the year and Uggie the dog -- the adorable Jack Russell terrier -- steals the show. The music is phenomenal and each scene is a testament to the power of storytelling through the moving image. Truly a remarkable film on every level.
1: Hugo
Martin Scorsese's masterpiece has more magic than the past five years of "Harry Potter" films combined. Not necessarily a kids movie, "Hugo" is an emotional and enchanting exploration of the dawn of cinema and the invention of dreams. It's also about loss, forgiveness and the journey of making your dreams come true. "Hugo" has it all - comedy, drama, adventure, history, tears and laughs. It has style and packs an emotional wallop. "Hugo" is a marvel and is the best film of the year.