Fox 411's Guide to Layering Without Looking Larger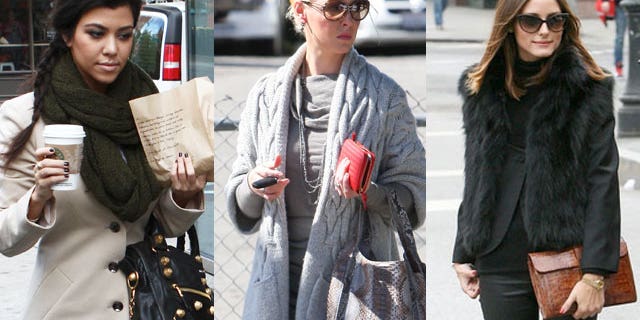 The layered look is always in style and is especially essential during the fall when the temperatures fluctuate constantly.
Layering can also help you get more mileage out of the items already hanging in your closet. You'd be amazed at how many new outfits you can come up with just by playing around and doing some mixing and matching with your old standbys.
This trend requires you to proceed with caution, because if you layer blindly, you can run the risk of looking sloppy and frumpy.
But fear not. Fashion Fridays here at Fox411 has you covered. Read on for simple tips to make the layered look work!
SLIDESHOW: Click here to see how to put these guidelines into practice.
Enhance, Don't Overpower:
Stick to silhouettes that enhance your assets without overpowering your figure. Remember, you wear the clothes; your clothes don't wear you, so avoid anything that won't stay in place or is too bunchy, baggy or just plain uncomfortable. Layers shouldn't be used to completely hide your figure, but rather, should work to flatter what you want and conceal what you don't.
Fitted and semi-fitted styles that are still comfortable are your best bet and are safer to work with than heavy, chunky, unstructured pieces which can add heft to your frame.
A camisole, long sleeve v-neck or cardigan (v-shapes are ultra flattering for all body types) and a tailored blazer is a combination that just about everyone can pull off with panache. To elongate your shape and create a sleeker silhouette and more defined waist, opt for single breasted, fitted jackets or blazers with a deep v-necks.
Play with Proportions
Proportion is key when it comes to layering. Combining pieces that have the same shape can make you look shapeless. Too many pieces that are vastly different in shape can look all over the place. The layered look is meant to be relaxed and comfortable but there still needs to be a method behind the madness or you'll look like you're swimming in a sea of fabric.
If you're wearing several layers up top, go for more streamlined bottoms, like skinny jeans or sharply tailored pants. If your bottoms are more voluminous (full skirts, wide leg pants, etc) or you have a lot of elements (ex: skirt, tights, printed socks and funky shoes) keep it fitted and simpler on top.
Loose, billowy pieces can be very feminine and flattering, but you have to be a bit more mindful when layering with these items or you'll risk looking sloppy. Whether it's a top, tunic, or dress, make sure it grazes your figure without being too clingy or too loose. Then, add some shape to it with something structured like a cropped vest or blazer. A belt is also a great way to add shape and create the illusion of a slimmer mid-section.
Kill the Competition
By nature, the layered look is comprised of a bunch of different items and it's your job to make sure you don't have too many competing elements in the mix. Too many prints and patterns can be a dizzying, chaotic mess; too many bright colors can make you look like the spokesperson for Crayola; and too many embellishments can look gaudy and sloppy. And, keeping it clean and sleek is a lot more figure-flattering.
To achieve a cohesive look, try to limit yourself to only one, or maybe two, standout pieces and cut it off at that. If you're wearing a beautifully embellished dress, keep everything else more muted. If wearing traffic-stopping shoes, make sure you don't have any other strong eye-catching pieces in the mix.
That doesn't have to mean the rest of your ensemble needs to be boring. You can still merge fun, fashionable pieces but make sure they work together, not against each other.
Avoid Accessory Overload
Accessories are a great way to update your look but too many of them can create a cluttered mess. Yes, some people (okay, really just Rachel Zoe) can wear piles and piles of jewelry and make it work, but such a skill is a rarity.
Rather than piling on the bling, exercise the same type of restraint discussed above. Try to limit yourself to one standout piece- a statement necklace, chunky bracelet, large cocktail ring, or oversized watch- and keep everything else on the subtle side.
A scarf is the perfect way to finish off the layered look. Opt for thin, lightweight scarves as opposed to oversized chunky ones which can bulk you up.
Trust Your Gut
Who needs a stylist when you have your gut to guide you in the right direction? If you feel uncomfortable or sense that something doesn't look quite right, do some rearranging because, let's face it, the look is not going to grow on you as the day goes on.
Creating a layered look is a little like baking a cake- you need the right amount of each ingredient for the best results. Everyone's body is different- we all have our assets as well as problem areas. In order to create a flattering layered look that makes you feel comfortable and confident, let your gut be your guide.
-Sabrina Newman is the editor of the fashion, beauty and lifestyle blog ANewMode.com.