For King & Country did a lot of 'fumbling and stumbling' before big break
NEW YORK – Australian brothers Joel and Luke Smallbone spent 12 years working on their music career before someone finally took notice.
Before the sibling duo would launch into the successful Christian pop band, For King & Country, the Smallbones initially spent six years writing a series of "really bad songs," crafting their songwriting abilities and coming up with their band name -- and it was an additional five years after forming For King & Country before they had their big break.
"We officially started For King & Country six-and-a-half years ago, but there was probably four-to-five years prior to that where Luke and I were kind of fumbling and stumbling in the dark," Joel, 34, told Fox News.
"We had been working together for 12 years which is nuts," his younger brother Luke, 31, said.
Joel continued, "Luke had never written a song, we didn't understand one another very well and so there was a lot of failure."
The brothers flew to New York City to play a showcase for a record label but "they didn't want to have anything to do with us."
Next stop was Los Angeles where they were rejected again after a series of failed performances.
It was finally when they landed in Nashville that things picked up for the Smallbones.
"It was in Nashville actually, which is a wonderful town for music. I love Nashville because so much of their music is about storytelling, it's about heart," Joel shared, adding that storytelling is what the brothers are all about.
It was in Music City that well-known producer Mark Bright, who has worked with superstars like Carrie Underwood and Reba McEntire, spotted the aspiring musicians.
"He heard a couple songs...[and] he just kind of made it his mission...we were the one group he really signed and really championed," Joel recalled.
He then offered a few words of encouragement for fans in any industry to not stop pursuing their dreams.
"Whatever kind of business you're trying to get into, whether it's the arts, a doctor, a pilot or anywhere in between...we're a case study where no one got it. We had a plethora of really awful band names and like really bad songs that no one is ever going to hear," Joel admitted with a laugh. "But staying in it long enough [is what matters]."
Luke agreed with his brother recalling the time he had to explain to his future father-in-law why he couldn't give up his music career.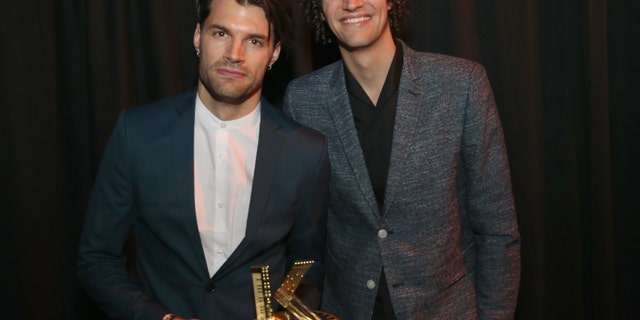 "He was like, 'Hey man, so you're marrying my daughter. What's going on here?' And I was just honest, I was like, 'Man, yeah, it doesn't make a lot of sense but I've worked at this for five-to-six years and I just have to see this through.' And he was cool with that."
With multiple awards and hit singles under their belt, the band recently released their latest album "Burn The Ships."
"How were you discovered?" is part of a regular series exploring how celebrities landed their big break.