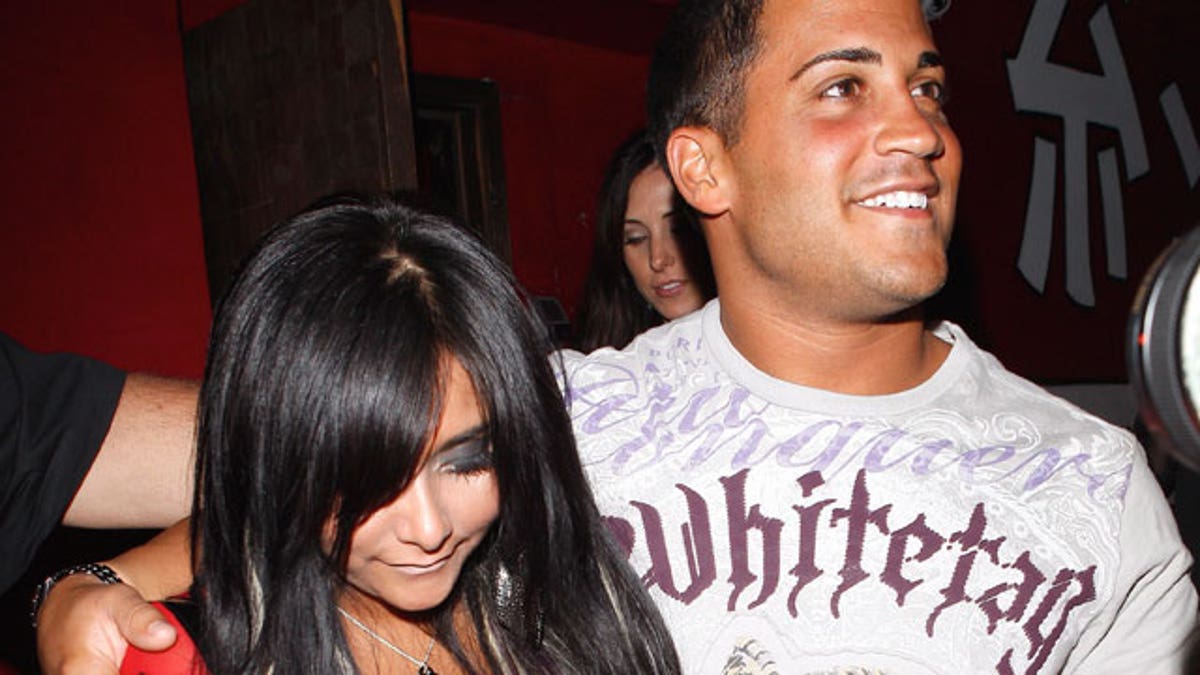 Hard on the heels of Nicole 'Snooki' Polizzi's bizarre pregnancy news comes this:
The current season of 'Jersey Shore' could very well be its last.
Sources close to MTV's highest rated show say the network is unsure how to proceed in light of Snooki's growing baby bump. Season six of the reality series has not been given the green light, and no decision on creative aspects of the show, including its cast, have been made.
Show insiders tell Fox411 that continuing the show without Snooki -- it's breakout star -- has the network extremely concerned.
It's like 'Happy Days' without the Fonz; 'Diff'rent Strokes' without Arnold; 'Laverne and Shirley' without Shirley.
A network source denies Snooki's pregnancy has anything to do with the delay in greenlighting the network's top rated show.
"No decision had been made before we heard the news," the source told Fox411.
But television critics say there is no way MTV would have had any second thoughts about producing another season of "The Jersey Shore" if the old, hard partying, fist-fighting Snooki was still its star attraction. And they don't see how the show can survive a season without Snooki and her antics.
"Snooki's pregnancy will likely spell the end for 'Jersey Shore.' The smash hit is built on getting smashed and the cast's drunken shenanigans – falling, fighting, and flashing one's nether regions – that result from binge drinking. Snooki. 'Jersey Shore' sans an intoxicated Snooki isn't worth watching," says Matthew Whitfield, Yahoo! Entertainment's features editor. "The show could survive without The Situation or Vinny, but it's doomed without her wild antics."
Polizzi confirmed to US Weekly magazine in a cover story this week that she found out about her pregnancy in early January and has since put her hard partying days behind her.
"No more peeing on porches," she told the magazine.
Snooki is still scheduled to film a spin-off of "The Jersey Shore" with her co-star Jenni "J Woww" Farley. MTV says that show, which is currently filming in Jersey City, has no air date or title yet, but insiders say it will now likely focus on Polizzi's transition from drunken plant-hugger to mom.
Sources also tell Fox411 that the network has considered auditioning a Snooki replacement, but that's a move that rarely pays off in sitcoms, and is unlikely to work on a reality show, either.
"It is a cast and casts gel and no one knows why they work and there is no science to it. I can't see the show without her is all I have to say. She is so important and so crucial," said Newsday television writer Verne Gay. "You can't be a drunk pregnant woman on a television show. It would be catastrophic on so many levels. They may find some way to go forward, but fans won't like it."
MTV's official statement is diplomatically pro-pregnancy.
"We wish Nicole a healthy and happy pregnancy and congratulate her on her engagement. We support her as she starts this new chapter of her life," an MTV repn told Fox411.
But not everyone believes that Snooki's meatball in the oven spells doom for "The Shore." Media analyst Brad Adgate believes the show will find some sort of replacement and continue on in it's drunken glory.
"It is an ensemble cast and she is not the sole star of the show. MTV could find a replacement for her," Adgate, an analyst with Horizon Media, told Fox411. Adgate also noted that ratings for the show have already peaked. According to his figures the show had ratings of 7.22 million for the fourth season and is now looking at ratings of 5.98 to date for this, the fifth season.
Still, it remains the highest rated program on the network. And networks don't typically jettison their highest rated shows unless their hand is forced.