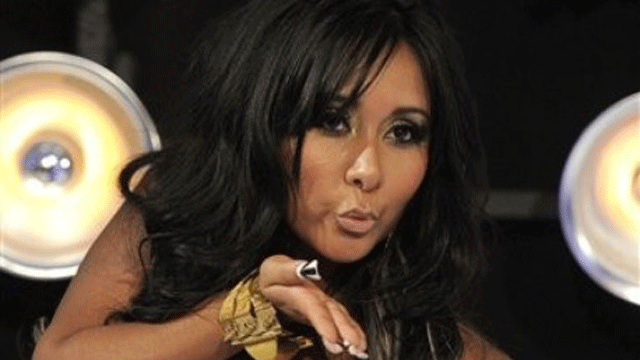 Despite assuring Fox411 that she was most definitely not pregnant last month, pint-sized "Jersey Shore" star Nicole "Snooki" Polizzi reveals that she and her fiancé Jionni LaValle are expecting.
"I wanted to make sure the baby is OK," she told Us Weekly. "Things can go wrong, like a miscarriage. It was my business, and I wasn't ready to tell."
She told the magazine she was 15 weeks pregnant, and that she and her now-fiance LaValle were "ecstatic."
Snooki admitted that her first thought on finding out she was expecting, just after New Year, was, "Sh*t, I've been drinking!"
"It was New Year's Eve and we were in Vegas, so I did go crazy," she admitted
But the reality star says that her hard-partying days are now on hold, adding that she will not film any of the hit MTV show "Jersey Shore" during the summer.
"If anything, I'll visit the shore," she said. "I'm not living in that house being pregnant. I don't want to be one of those moms who's pregnant in a club. It's disgusting."
Snooki and Lavelle also discussed the baby's gender and their planned parenting style during the interview.
"She wants a cheerleader, and I want an athlete," LaValle told the magazine. "If it's a girl, she is not dating until she is 18."
However Snooki disagreed, adding, "I'm letting her date. I started dating at 13."
Snooki is currently filming her spinoff show in New Jersey with Jenni "JWOWW" Farley.
NewsCore contributed to this report.