First Latina princess 'Elena of Avalor' makes her royal debut at Walt Disney World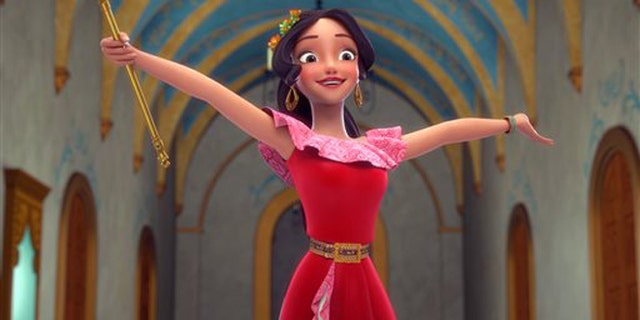 NEWYou can now listen to Fox News articles!
Disney's first Latina princess, "Elena of Avalor" received her royal welcome from none other than Cinderella and Prince Charming, complete with a procession and song.
The princess made her debut at Walt Disney World on Thursday. She will make her bow at Disneyland Resort this fall.
The princess also got other good news this week. She will keep her throne on the TV series "Elena of Avalor" – getting a second-season renewal.
The decision was announced Thursday, shortly after the July debut of the animated series on Disney Channel and Disney Junior.
Disney had already demonstrated its confidence in the project with extensive merchandise tie-ins, including dolls, books, accessories, a soundtrack and upcoming DVD.
"It's just a few weeks into the launch of 'Elena of Avalor' and we are already seeing what an impact and connection she is making with kids and families," Nancy Kanter, executive vice president and general manager of Disney Junior Worldwide, said in a statement.
The series, which incorporates elements of Latin cultures and folklore, added to Disney's once whites-only princess universe. That has gradually expanded to include Asian, African-American, Native American and Middle Eastern royals in screen projects.
Also on-hand for Elena's Disney debut, were the Girl Scouts of America. Elena received the inaugural Scepter of Light, an award recognizing leadership and success with scout's "Gold Award Take Action" project.
One moving moment during Elena's Magic Kingdom introduction was when she and dozens of Girl Scouts in the crowd raised scepters in unison.
With reporting by The Associated Press.