Featured Review: 'The Town': Darkness on the Edge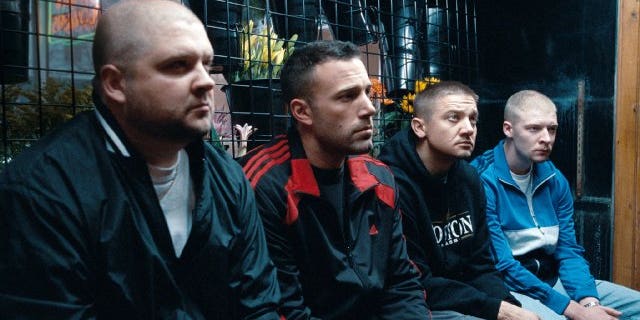 If "Gone Baby Gone" wasn't proof enough that Ben Affleck could be a real filmmaker, here comes "The Town" to further establish his credentials – and to reestablish him as a strong, vulnerable leading man.
Gripping and moving at the same time, "The Town" is a solid heist movie whose fleshed-out characters give the story the weight it requires to be more than just a caper film.
Based on a novel by Chuck Hogan (and adapted by Affleck, Aaron Stockard and Peter Craig), "The Town" is about a crew of armored-car and bank robbers, led by Doug MacRay (Affleck), who all hail from the Charlestown neighborhood in Boston – supposedly the area of the U.S. that produces the most bank robbers per capita.
But something happens on the job that opens the film: Doug falls for Claire (Rebecca Hall), the bank manager, who they take hostage – briefly – because someone triggered the silent alarm. They release her unharmed, but Doug's excitable partner Jem (Jeremy Renner), is afraid she'll somehow implicate them to the FBI. He wants to eliminate her but Doug has other ideas.
Though supposedly assessing her as a threat, Doug instead finds himself drawn to her. So post-robbery and sans disguise, he maneuvers himself into a position to ask her out.
---------------------
MORE REVIEWS
'The Freebie': Don't Ask, Don't Tell
'Jack Goes Boating': Cinematically Seaworthy
'Never Let Me Go': Oh, Let Go Already
---------------------
The untenable relationship blossoms, even as she is also mildly pursued by the FBI agent, Frawley (Jon Hamm), who is chasing MacRay and his crew. But MacRay is dealing with other baggage as well. He's a recovering alcoholic who sees in Claire the exit door from a lifestyle that no longer makes sense to him.
Getting out isn't that easy. He's lifelong friends with Jem and a former lover of Jem's skanky sister (Blake Lively). So any attempt to put them behind him is seen as a personal betrayal. He also has a father (Chris Cooper), another bank robber, who he visits in prison – and who reminds him of the dangers of thinking above his station.
MacRay is in an untenable position. The FBI is getting closer, even as his relationship with Claire is heating up. Their future is less than uncertain; it's impossible. Yet he sees her as a source of his own salvation, though he knows he can't keep the truth from her forever.
But even as he tries to extricate himself, he is yanked back in by a local gangster, Fergie (Pete Postlethwaite), who wants MacRay and crew to pull off the ultimate score – robbing Fenway Park during a Red Sox game. And there's no saying no to Fergie.
Affleck captures the conflict within MacRay's soul: his yearning for Claire, his finely honed sense of self-preservation, his increasing disillusion with his old life. Old habits are hard to break but he's beaten alcohol – and feels, finally, that he needs to escape from the other part of his existence, which no longer seems to make much sense.
There's a yearning to Affleck's performance, a feeling of straining against the bonds of his own existence that is subtle and touching. His desire strikes sparks with a similar longing in Hall's Claire. Hall – so good in "Vicky Cristina Barcelona" – gives the viewer a real look at this smart but lonely young woman, giving her a tougher aspect than we expect.
Hamm is a revelation as the hard-charging FBI agent, who wants MacRay badly enough to bend – and break – some rules. This is a character with more heat than he shows as the button-down Don Draper on "Mad Men" and Hamm pulls it off. Renner, as the explosive Jem, is combustible and scary, while Lively is convincingly wrung-out as his unhappy sister with a thing for MacRay.
"The Town" features exciting action set-pieces, skillfully constructed with great eye for detail and sense of tension. But it's more about the characters and their crossroads. You may come for the heists and shoot-outs, but you'll stay for the tart, expressive story that goes with it.
Marshall Fine is a journalist, critic and author. For more go to Hollywoodandfine.com.