'Fear the Walking Dead' touches on the American immigrant experience, cast says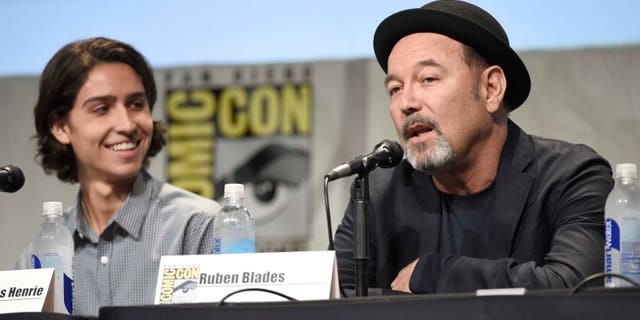 NEWYou can now listen to Fox News articles!
The zombie apocalypse and the immigrant experience don't have anything in common really, but the upcoming prequel of the hugely popular TV "Walking Dead" is going to merge those two together.
During a roundtable press interview at San Diego Comic-Con, "Fear the Walking Dead" executive producer Gale Anne Hurd revealed that one of the key things that will distinguish the spin-off from the original is that it will explore the American dream.
This aspect will be told through the lives of Ofelia Salazar, a first-generation American played by Mercedes Mason, and her father Daniel Salazar, a Salvadoran immigrant played by singer Ruben Blades.
In the show Blades is a barber who arrived in Los Angeles years ago with his wife. The Panamanian salsa icon told io9.com that the show will deal with the immigrant experience.
"[It is about] immigrants who come here for a new life and what they want for their children: to have a better life than they did," he said. "That has all changed irreparably [with the apocalypse]."
He called his character "complex," one who struggles constantly to forget his past.
"He came to the country like many Latinos come to the country, because of political issues in the country of origin. He's trying to reinvent his life, basically," Blades said during the roundtable. "So when (the apocalypse) happens, we are forced to relive the issue. Some people are better prepared than others and don't know this."
As for Salazar's daughter, Mason said Ofelia is very loyal to her immigrant parents and wants to protect them, even though she knows little about their past south of the border.
"I come from immigrant parents, so I know even growing up, you feel like you have to cater to them, take care of them," she said. "English isn't their first language, so you end up defending them a lot and you want to protect them."
When the apocalypse happens, Ofelia's life is tumbling and she is "grasping for straws," Mason said, trying to figure out who she is and who she can rely on.
"Fear the Walking Dead" is set to debut Aug. 23 on AMC.