Fans call on ABC to revive 'Last Man Standing' after 'Roseanne' revival's politics revealed
When Roseanne Barr revealed her sitcom character is a Trump supporter in the upcoming "Roseanne" reboot headed to ABC in March, fans of the canceled show "Last Man Standing" immediately called upon the network to bring back the Tim Allen-led sitcom.
Allen, a conservative himself who has voiced his support for President Donald Trump, played Mike Baxter who is also politically conservative on the show which aired its last episode in March 2017 despite its high ratings.
"Last Man Standing" had been praised for being one of the few shows that appeal to a conservative viewership and ABC vehemently denied at the time that it gave the show the boot over its politics.
'LAST MAN STANDING' CANCELED DESPITE HIGH RATINGS
With ABC rebooting "Roseanne" and showcasing the main character's conservative values, viewers took to Twitter to ask the network to revive "Last Man Standing."
Barr said making her TV counterpart a Trump supporter made sense for the show about a working-class American family.
"Roseanne" Executive Producer Bruce Helford spoke to press at the Television Critics Association's Winter Press Tour about the decision to include Trump supporters within the well-known Conners family.
"We had a lot of discussions in the very beginning about all of our beliefs, about all the things we feel and issue by issue, you know, things we were going to decide what to deal with on the show," Helford said. "Everybody in the family has a different take on things. And we wanted to get that debate going in a very honest way, in a very real way. So whether you're pro-Trump, or anti-Trump or pro-Jill Stein... it was really about getting that dialogue going in an honest way..."
ABC SAYS 'POLITICS HAD NOTHING TO DO WITH' THE 'LAST MAN STANDING' CANCELLATION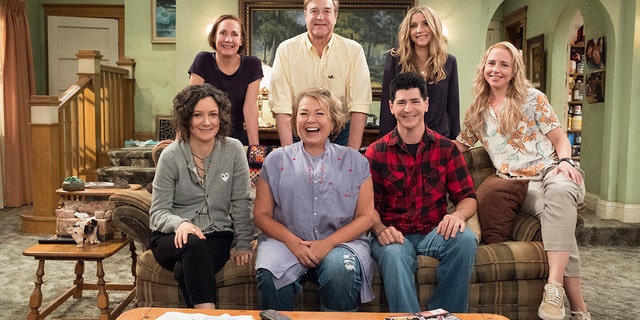 Barr chimed in saying, "I said, and I'll say it again... I have always attempted to portray a realistic portrait of the American people and of working class, you know working-class people. And, in fact, it was working class people who elected Trump.
"So I felt that, yeah, that was very real, and something that needed to be discussed. And especially about polarization in the family, and people actually hating other people for the way they voted, which I feel is not American. And so I wanted to bring it right down the middle, and we did."
Reps for Allen and ABC did not return Fox News' request for comment.
Fox News' Leora Arnowitz contributed to this report.