Ex-FBI boss James Comey finds safe space with ABC News' Clinton crony George Stephanopoulos
James Comey has found a safe space at Disney's ABC News -- with the network announcing that the fired FBI boss will give his first interview to "Good Morning America" star George Stephanopoulos on April 15, coinciding with the much-anticipated release of Comey's book.
Clinton crony Stephanopoulos is expected to use his booking of Comey -- a highly sought interview -- to justify his eight-figure salary, which recently has been called into question. At the same time, the ABC star already is facing criticism that his background as a liberal political operative would make it hard for him to be objective.
The interview will be a tall order for Stephanopoulos, and not just because he's more than a foot shorter than Comey. The ABC star, a Rhodes Scholar and Ivy League graduate, is widely regarded by conservatives as a liberal political operative and many potential viewers likely have a preconceived opinion about how the interview will go.
"It'd be laughable to expect a former Clinton administration official to be fair when it comes to interviewing someone who... has become a martyr for The Resistance," Newsbusters managing editor Curtis Houck told Fox News.
ABC announced during the Oscars on Sunday night, with an elaborate promo, that the interview would air two days before the publication of Comey's book, "A Higher Loyalty: Truth, Lies & Leadership." It would be Comey's first television interview since President Trump fired him last May.
Billed as "the interview America's been waiting for," ABC claimed that "nothing's off limits" when the former top aide to the Clintons and close friend of Obama Chief of Staff Rahm Emanuel sits down with the former FBI director.
Houck pointed out that Comey was once "vehemently" disliked by Democrats because of his role in the investigation into Hillary Clinton and her handling of classified information on her private email server. However, Comey has since found himself back in the good graces of liberals -- due largely to his combative relationship with Trump.
"If there's anything besides Trump-bashing in the interview, I could see the possibility of Stephanopoulos hitting Comey from the left on his October 2016 letter to Congress [which reopened the probe]," Houck said.
An ABC News spokesperson provided the following statement: "The interview will speak for itself - we expect it [to be] revealing, tough and fair."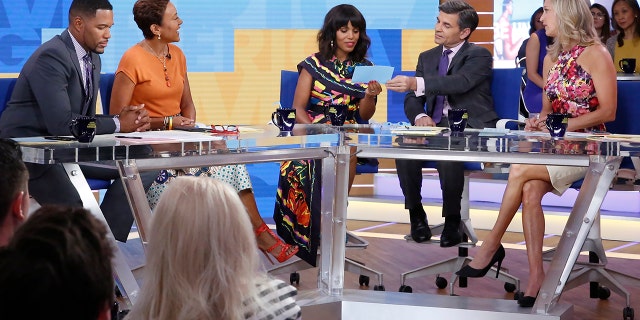 The interview will be challenging from a production standpoint, as the 6-foot-8 Comey towers over the 5-foot-7 Stephanopoulos and the vast difference in height between the two men presumably will force ABC to make special arrangements. Last summer, ABC reportedly altered its set so that Stephanopoulos wouldn't appear so tiny next to his vertically gifted co-hosts, Michael Strahan and Robin Roberts. Presumably, the Comey primetime special will require some creativity.
Stephanopoulos is believed to earn roughly $15 million a year at ABC, according to Business Insider, and his enormous salary has faced increasing scrutiny. While Stephanopoulos' cachet has diminished significantly with Hillary Clinton's failure to win the White House and many of his Democratic friends leaving Washington with the end of the Obama administration, landing Comey proves that some key figures still feel comfortable with the ABC News star.
While ABC is expecting a big audience for the primetime special, not everyone is excited about the upcoming interview. Stephanopoulos tweeted a link to the promo, but responses were filled with comments such as "thought it was too early for softball season" and "can't wait to see your pandering."
Daily Caller reporter Chuck Ross tweeted, "That teaser of the Stephanopoulos-Comey interview was funnier than anything [Oscars host Jimmy] Kimmel said tonight."
Stephanopoulos became a source of unease for ABC during the presidential campaign when he was caught secretly giving money to the Clinton Foundation and had to recuse himself from hosting any presidential debates. President Trump has denounced Stephanopoulos for liberal bias, deriding him as "little George." It will be interesting to see if ABC News discloses Stephanopoulos' ties to Clinton during the Comey special interview.
There is increased pressure for Stephanopoulos to justify his lofty salary after former morning-show competitors Matt Lauer and Charlie Rose have been kicked to the curb over sexual misconduct allegations. Stephanopoulos' eight-figure salary raises eyebrows as NBC rolls out a fun-loving and far less expensive team during the first two hours of arch-rival "Today."
All of this occurs as viewers are turning off morning shows more than they have in recent memory. Stephanopoulos' "GMA" finished the fourth quarter of 2017 down seven percent in viewers and down 11 percent in the key news demo compared to the fourth quarter of 2016, according to TVNewser.
Stephanopoulos has used his ample wages to afford a lavish apartment -- featured in design magazines -- in New York City's prestigious Upper East Side neighborhood and also a weekend estate in the Hamptons, an exclusive part of New York state's Long Island known for its opulent mansions. Stephanopoulos and his wife, the socialite and sometime actress Ali Wentworth, recently listed the estate for nearly $6 million dollars.
It appears that ABC News is trying to get some bang for its buck leading up to the 2018 midterm elections. While ABC News has been criticized regularly for focusing on lighter, feel-good stories, the network has put an emphasis on election coverage in recent weeks and is promoting the Comey interview more than a month before it airs.