Eva Longoria and America Ferrera poke fun at Golden Globe snafu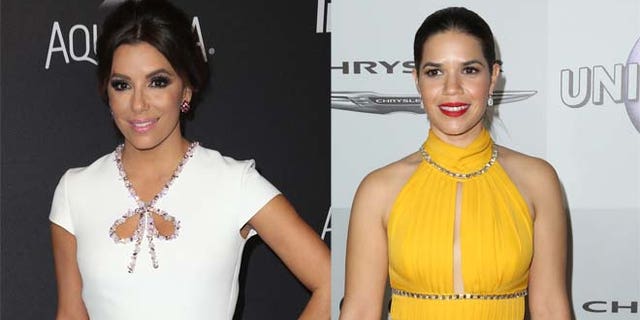 Reminder: America Ferrera is not Gina Rodriguez and Eva Longoria is not Eva Mendes.
In a light-hearted jab Sunday night during the Golden Globe Awards, Ferrera and Longoria wanted everyone to understand that not all Latinas are the same.
"Yes, I am Eva Longoria, not Eva Mendes," the recently engaged Longoria started off the sketch. Then America Ferrera added: "And, hi, I am America Ferrera, not Gina Rodriguez."
"And neither of us are Rosario Dawson," Longoria said.
"No. Well said Salma," Ferrera quipped back. "You're welcome Charo," Longoria said.
The actresses presented the Golden Globe award for best actor in a TV series, drama to John Hamm.
Longoria and Ferrera's on-stage sketch followed last month's snafu by the Hollywood Foreign Press Association on Twitter when they showed a photo of Ferrera and called her Rodriguez.
Later, in an interview with Entertainment Weekly, Ferrera said often gets confused with other Latina actresses. People, she said, frequently think she's either Gina or Michelle Rodriguez, and something even call her Selena Gomez.
"Basically anyone who's Latina. People just look at me and go, 'I think she's vaguely famous – she's definitely the one famous Latina who I might know," she said.
A similar mixup happened at the Academy Awards in 2014 when the Academy of Motion Picture Arts & Sciences mistook Penelope Cruz with her good friend Salma Hayek in a backstage photo.
Also, during Sunday night's award show, host Ricky Gervais used Ferrera and Longoria and their heritage to poke fun at presidential candidate Donald Trump and his controversial comments about undocumented immigrants.
"Eva Longoria and America Ferrera are not just talented actresses, they are also two people that your future president, Donald Trump, can't wait to deport," he said when he called them to the stage.
Earlier in the show, actor Jamie Foxx also poked fun at Steve Harvey and his Miss Universe gaffe when he mistakenly announced that Miss Colombia had won the title over Miss Philippines last month.
While presenting the winner for best original score, Foxx, with a completely straight face, announced the winner as "Straight Outta Compton" – which was not even nominated.
After a few minutes of stunned silence, Foxx apologized profusely before announcing that the winner was Quentin Tarantino's "The Hateful Eight." He even showed the winner's card like Harvey did during the pageant last month.