Ellen DeGeneres Out at 'American Idol,' Jennifer Lopez Could Replace Her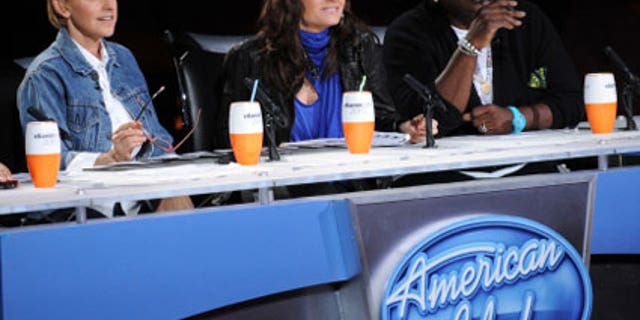 Ellen DeGeneres, who never got comfort able telling young sing ers to go back to their day jobs, has abruptly quit as a judge on "American Idol."
"A couple of months ago, I let Fox and the 'American Idol' producers know that this didn't feel like the right fit for me," she said last night in a statement.
"It was a difficult decision to make, but my work schedule became more than I'd bargained for."
REPORT: Kara Dioguardi Fired from 'Idol.'
Meanwhile, Jennifer Lopez is poised to take DeGeneres' place, according to multiple reports.
People magazine quoted an insider saying, "It's true, she's excited about it."
FOX411 VOTE: Who should be the next 'Idol' judge?
OK! magazine said an "Idol" source revealed, "They are ironing out contracts . . . so unless something goes wrong, it's a done deal."
FOX411: Jessica Simpson still in the running for 'Idol' judgeship?
DeGeneres' departure -- coming as New York auditions are to begin next Tuesday -- was sudden, but not a total surprise.
Just this week, the show's producers began to hint that they were considering getting rid of all of the remaining judges -- DeGeneris, Randy Jackson and Kara Dioguardi-- and starting over with a whole new slate.
VIDEO: Obama Press Secretary Says He's Leaving White House, Joining 'Idol.'
Filling Simon Cowell's vacant seat on the panel has been the No. 1 priority since January, when he announced that he was leaving to start a talent show of his own, "X Factor," next year.
A dozen big names -- including Elton John, Harry Connick Jr., Sean "Diddy" Combs and Jessica Simpson have been floated as possible successors.
But finding a replacement who could maintain the show's famous chemistry has proven difficult.
"That's why we've started to talk about starting all over again with all new judges," an insider said.
Jackson has a year left on his contract, and DioGuardi has yet to be re-signed, sources said.
DeGeneris replaced Paula Abdul on the panel last August after Abdul quit in a contract dispute. But DeGeneres, the star of her own daytime talk show, never seemed to blend in with her fellow judges or take much pleasure in the rapid-fire system of gladiator justice.
"I realized this season that while I love discovering, supporting and nurturing young talent, it was hard for me to judge people and sometimes hurt their feelings," she admitted.
"I loved the experience of working on 'Idol,' and I am very grateful."
The show remains the biggest draw on TV -- attracting 18 million viewers in an average week, far more than its nearest rival, "Dancing with the Stars."
But after nine seasons, its ratings had started to taper off, and the show itself had begun to seem predictable.
Auditions for the new season began two weeks ago. Now, it appears that those who made it past the first cut are being told to come back later -- after new judges are hired.