'DWTS' performer 'ready for marriage' to her co-star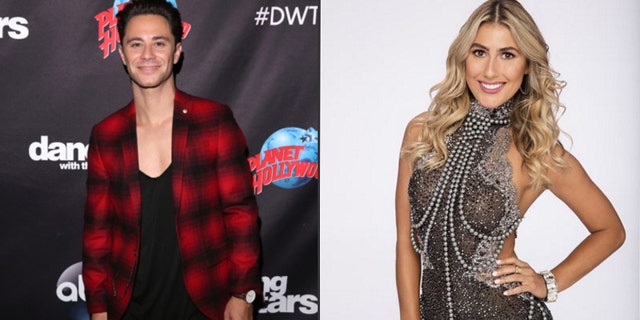 There's love behind the scenes at "Dancing with the Stars."
And soon, maybe a wedding!
Longtime "DWTS" professional dancers Emma Slater and Sasha Farber are now living together and she told reporters after Monday's show that she wants to marry him.
When FOX411 boldly asked if they are going to get hitched, Slater replied, "I would like to. I feel like it's soon. I've been hinting pretty heavily and if you tell all your girlfriends to go tell and him [that] I think I was ready for marriage now, then I think that's a pretty strong hint. He probably gets it."
Slater, who is British, and Farber, who is a Russian born Australian, are both competing this season; Slater's partner is former Texas governor Rick Perry while Farber is successfully navigating the challenge of dancing with the show's first celebrity little person, Terra Jole.
Slater, who previously took her "DWTS" blue collar comedian partner Bill Engvall to a surprise fourth place in season 17, said she and Farber have been struggling to agree on a style for their home.
"Redecorating with someone you're with can be quite a tough decision because he likes everything modern and I like everything really traditional and English-y, cottagey, that kind of thing," she said. "But we found our style and love it."
The two dancers aren't the only ones who have found love on "DWTS." As fans know, pros Maks Chmerkovskiy and Peta Murgatroyd are expecting a baby and planning their wedding, while dancer Kym Johnson and her reality TV celebrity partner, "Shark Tank" businessman Robert Herjavec, fell in love on the show and got married this past July. (Johnson will return to "DWTS" on Tuesday night as substitute host for Erin Andrews).
Slater herself was the subject of romance rumors with a previous partner, season 21's terror train military man hero Alek Skarlatos.
Although Skarlatos was teamed with Lindsay Arnold, during a change your partner week, he burned up the floor with sexy Slater. "She's super attractive, [in fact] she's too hot. I can't keep my cool," Skarlatos told "DWTS" cameras.
But some time later, Skarlatos said he found out Slater was "spoken for."
And the lucky guy is Farber, with whom she reconciled after they had split in 2014.
On Monday, Slater said it's no problem competing for the mirror ball trophy with her beloved, saying, "I'm sure it will make so many people sick but we're just supportive of each other. I really want him to go far in the competition and I really see it for them. Terra is amazing; she made me bawl my eyes out…at home, we don't really talk about getting around each other. We talk about getting around everybody else…and I think it always will be supportive. The only other time we competed together was both of our first seasons as pros and they put us in the elimination together and it was the worst feeling in the world."
But soon, the couple might have the best feeling in the world -- when they tie the knot!