Dina Manzo Calls Danielle Staub 'Filth,' Says She's Reason She's Leaving 'Housewives'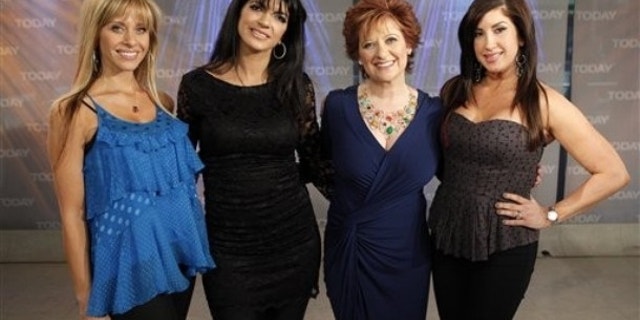 Dina Manzo dashed the hopes and dreams of devoted "Real Housewives of New Jersey" fans this week with the shock announcement that no amount of fame or fortune could entice her to continue dealing with the catfights and craziness that is oh-so-critical to reality TV.
Yep, Dina is dunzo with the hit Bravo show for good – and it is all because of fellow "Housewife" and enemy, Danielle Staub.
Bad, Danielle! Bad!
"(The final straw) was Danielle making a mockery of the event at the Brownstone," Manzo told Tarts on Wednesday. "This event was about that beautiful baby, not her. It disgusted me."
Manzo is referring to the episode which featured a fundraiser (that she apparently didn't think was going to be filmed?) for a young, cancer-stricken child that was taking place at Brownstone, an event facility operated by Manzo's husband Tommy and his brother Albert, who is married to Dina's older sister, Caroline Manzo.
Deep breath...
It seemed Staub felt the need to be "protected" from the Manzo family, thus turned up to the event with the quite the entourage of uninvited guests – a bunch of intimidating men, including members of the Hell's Angels gang.
Drama ensued when there was no seating available for the extra attendees, who responded with a collection of curse words, threats and demands. One even directed a gay slur towards Caroline's teenage son Christopher, who also works at the Brownstone. Mind you, all this chaos involving Staub's protection posse went down while the parents of the baby battling a life-threatening disease looked on.
Dina's older sister Caroline said the event was the proverbial straw that broke the camel's (Dina) back.
"I'm not surprised at all; this was a long time coming. There's a degree of sadness with Dina leaving, but I support her decision," Caroline told us. "I wouldn't want her to stay on the show for us. Dina needs to do what is best for her and her family."
While fans will no longer be able to curl up on the couch for an intimate glimpse of Dina's life on the small screen, one lucky bidder and their guest can win a lunch date with the sisters, as well as a gift bag from MyWorkButterfly.com and two Powersticks. A portion of the proceeds will benefit Dina's charity, The Project Ladybug Fund, which is dedicated to helping families improve the quality of life for children fighting serious illnesses.
(Click to Bid: Auction Closes Friday.)
And though she's done with her "Housewife" days, Dina doesn't plan to fade into obscurity.
"I'll be working my butt of for 'Ladybug' while I still have people's attention and working on lots more," she said. "But 'Ladybug' is the most important thing to me; I have so many goals to meet for these kids. I have a very soft spot in my heart for these children who didn't ask for this battle. They are just so innocent."
And when we asked for her thoughts on Staub's scandalous sex tape, Dina had just one descriptive word to describe her former co-star.
"Don't really want to associate my charity with that filth," Dina said.
Apparently!