Did John Galliano Commit Career Suicide With Anti-Semitic Remarks?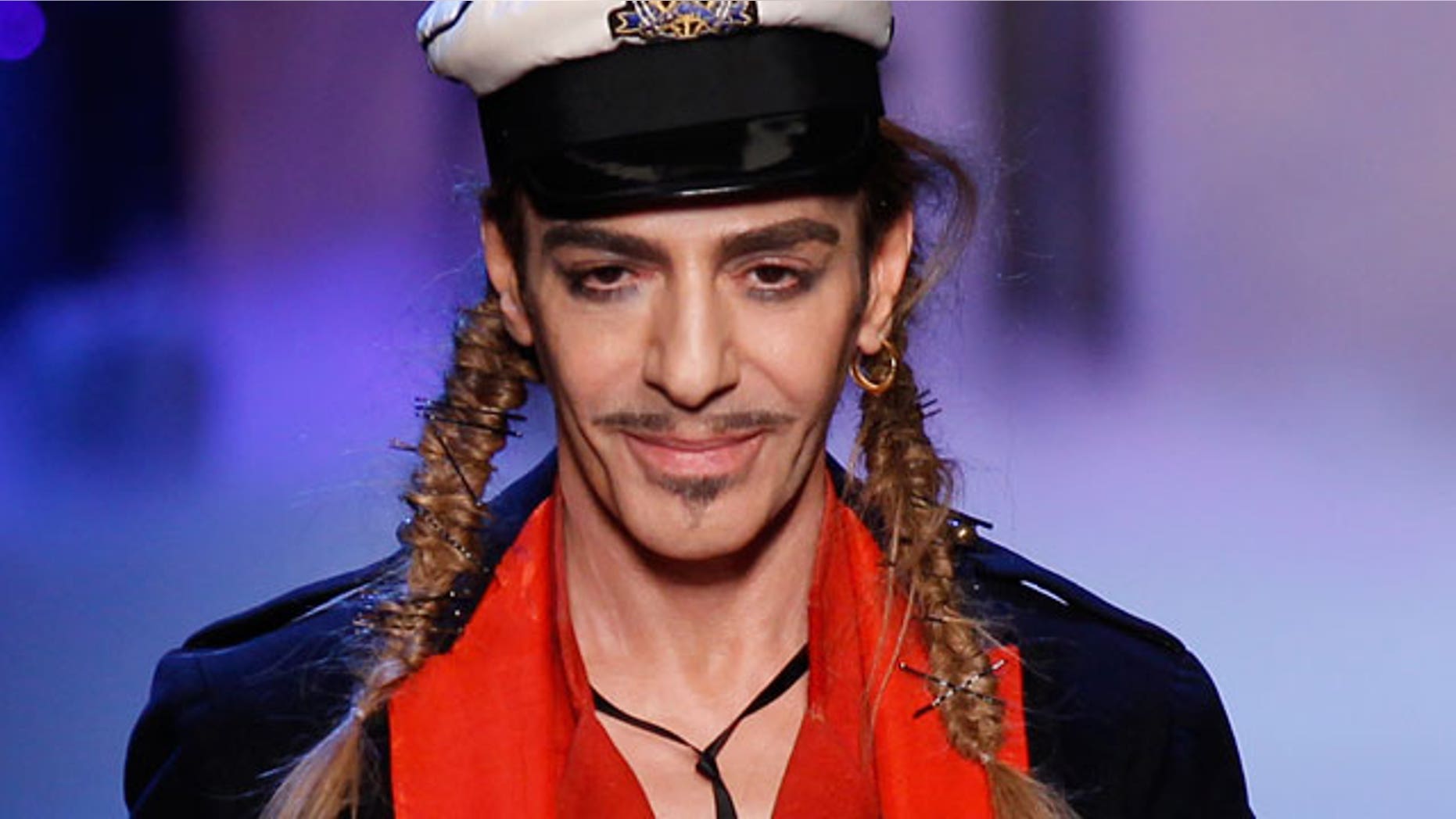 A day after being fired by legendary fashion house Christian Dior, top designer John Galliano issued an apology for his anti-Semitic remarks, which were caught on camera and have reportedly led to a rehab stint.
Meanwhile, the 50-year-old designer will head to trial in Paris for "public insults toward an individual on grounds of their origin or religion ... following complaints from three people."
But regardless of the outcome any legal proceedings may bring, it seems Galliano will have a difficult time restoring his reputation in the fashion and entertainment arena.
"Anti-Semitic statements are difficult to recover from, even when they are said under the influence of alcohol. Going into rehab may treat the alcoholism, but won't do anything for the way he apparently feels about people who are Jewish and the public knows that," Glenn Selig, crisis management expert and founder of The Publicity Agency, told FOX411's Pop Tarts.
"It will take more than rehab and an apology for him to recover. Perhaps after undergoing extensive counseling to help him understand why he feels the way he does, and then stepping forward to deliver a heartfelt apology, he may be given a second chance. But that is far from a sure thing. Hollywood stars are quickly distancing themselves from John Galliano. And if Hollywood and fashion can move forward just fine without him, it just may be the end of his career because no one may feel it's worth the risk to give him another chance."
Gene Grabowski of Levick Strategic Communications concurred that the British designer has a very long road or redemption ahead.
"Mr. Galliano is facing an especially difficult challenge in that his reputation has been severely damaged because he has deeply offended people on a highly sensitive issue and because his relevance as a designer isn't as strong as it once was," Grabowski said. "In a field as competitive as his, there are many talented and innovative designers who are vying to replace him."
However, leading Los Angeles stylist Phillip Bloch, who actually modeled in Galliano's very first fashion show after graduating from design school, is fully confident Galliano will make a comeback.
"Especially after we lost Alexander McQueen, the industry isn't going to lose him, too. He is one of the most creative forces in fashion. Galliano is just way too talented, he's not going anywhere. He'll just have to chill out for a year and go to rehab, but I'm 100 percent convinced he will find another place," Bloch said. "You just don't come across that kind of talent every day – he just has this all-encompassing view of the history of fashion and what it takes to create a masterpiece. He would be an asset to any house if he can keep his mouth shut."
Bloch also feels that Dior acted too impulsively in being so quick to dissociate themselves from the controversial designer.
"The company got rid of him so quickly, it is a rather small thing in the whole world of scandal and given the amount of money he has made for that company. Dior was nothing until they brought him into the company, he really brought Dior back to life," Bloch added. "The bigger question is what will happen to Dior after he is gone; they are going to find it hard to find someone like him. I would be more worried about Dior than I would be about Galliano."
So what action should Galliano now take in order to one day re-emerge on the runway?
"His best course of action at this point is a three-part process that has proven successful for many other celebrities, athletes and politicians who have found themselves in dire straits," Grabowski said. "
The first is repentance, something he's already done, which is to "apologize and sincerely ask for forgiveness."
"He must then endure a two- or three-month reprogramming regimen at a detoxification center (which he has announced he is doing,) and the third is redemption. Upon emerging from his rehabilitation stay, he must declare that he has changed his ways and understands what he did wrong, will never do it again and is dedicating himself to a fresh start. It would also be very helpful if he made a financial or personal contribution in time to a cause related to the state of Israel or to a charity dealing with Jewish issues."